LAS VEGAS, (Reuters) – Floyd Mayweather Jr took the WBC welterweight title from Victor Ortiz with a controversial fourth-round knockout on Saturday that prompted an angry response from the crowd and raised questions about his conduct in the ring.
Aggressive puncher Ortiz had knocked down 12 of his previous 13 opponents and he pinned fellow American Mayweather against the ropes before being penalised by referee Joe Cortez for a head-butt.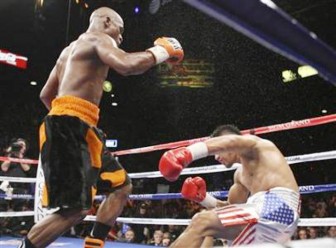 After a brief time-out, Ortiz apologised to his opponent in the centre of the ring by touching gloves before Mayweather suddenly responded with a left hook and crunching right that dropped Ortiz to the canvas at 2:59.
Boos rang out from the crowd in the MGM Grand Garden Arena but Mayweather, who improved his professional career record to a perfect 42-0 with 26 knockouts, was unrepentant.
"I got hit with a dirty shot, I was protecting myself at all times," the 34-year-old said ringside. "I hit him with a left and then a right hand, and that ended the bout."
Asked to describe what happened as a replay of the final moments was shown on a giant television screen, Mayweather replied: "We touched gloves and we were back to fighting, then I threw the left and right hand and that's all she wrote.
"In the ring, you just have to protect yourself at all times. I was victorious. If he wants a re-match, he can get a re-match."
Mayweather, widely regarded as the best defensive fighter of his generation, then showered his interviewer with abuse and said he had never been given "a fair shake".
Ortiz, who took the WBC welterweight title from Andre Berto in April with an unanimous points victory, conceded the head-butt had been unfortunate but was eager to get a re-match with Mayweather.
ORTIZ APOLOGY
"I apologised to him," the 24-year-old southpaw said after slipping to 29-3-2 with 22 knockouts. "I am not a dirty fighter. I am sorry for that. But I was doing just fine until that slip-up so I would love this re-match."
Ortiz, who had said during the fight's build-up that he had never been especially impressed by Mayweather's fighting credentials, gave his own version of how the bout had ended.
"I was called to break by the referee (after the head-butt) and I obeyed exactly as I was told," he said. "And then, boom, he blindsided me. It happens.
"As far as I was concerned, I came here to entertain the fans and I think they were entertained. There was a miscommunication with the referee but nobody is perfect and this was a learning experience."
Watched by a crowd of around 15,000 that included former heavyweight champion Mike Tyson, American pop singer Christina Aguilera and basketball great Magic Johnson, Mayweather made a confident start.
He landed several body shots early in the opening round and dictated the tempo with a series of accurate right jabs.
Though Ortiz forced Mayweather to back-peddle for much of round two and twice pinned him against the ropes, his opponent responded with a couple of crunching rights to retain control.
Mayweather continued to dominate, maintaining the initiative with accurate punching in round three and then upped the pace in the fourth before getting the knockout he had predicted earlier in the week.
He dominated the official ringside statistics, connecting with 73 of 208 punches thrown to 26 of 148 for Ortiz. Mayweather also landed 61 power punches compared to Ortiz's 26.
Earlier on Saturday, Mexican boxing great Erik Morales, at the age of 35, stopped compatriot Pablo Cesar Cano after 10 of 12 scheduled rounds to claim the vacant WBC super lightweight world title.
Around the Web