Distance queen Alika Morgan was handed her first 10 kilometres defeat for the year on local soil when she competed at the 2011 Courts revival 10k road race yesterday.
The event, which started at the Courts head office on Main Street, saw the Open category winner receiving $100,000 while second, third, fourth and fifth place finishers received $80,000, $60,000, $40,000 and $20,000 respectively.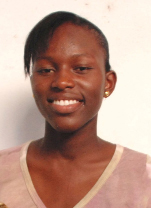 Morgan, who was sharing the lead with united States of America-based distance runner, Euleen Josiah-Tanner, was unable to keep up with  Tanner's pace just before the Conversation Tree.
The 37-year-old Tanner, who landed on Guyana's soil the night before the race, clocked 38.43s competing for Police Sports club.
Morgan clocked 42.23s for the second position while Ashanti Scott finished third in 43.21s.
Jevina Straker 45.47s and Eva Henry 47.00s finished fourth and fifth respectively.
"
Well I got in last night and my body is a little tired because I have been travelling for two days but overall it was a good race and she's (Morgan) a good athlete and I wish I could have put in a little bit more for the race," Tanner told Stabroek Sport after crossing the finish line.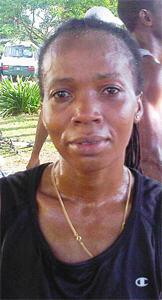 Tanner, who is a part of the South Fulton Running Partners in America, also expressed her thoughts on beating the local distance queen.
"I beat her before… well I think that anyone could beat anyone of any calibre once they train and sometimes even a mediocre athlete can beat a professional but I think if you put my time to her time you will see that I'm the better athlete overall," Tanner concluded.
Morgan in her remarks, revealed that that the reason she lost was because of belly pains during the race.
"For me the race was a good race but I wasn't feeling too well around the Russian Embassy… I was feeling some tightness in my belly but it's good to have competition and if you look at my time from the last 10k you can see that this just wasn't a good race for me because I ran faster the last time.
"Now my plan basically is preparing strong for the South American 10k and running a faster time," Morgan concluded.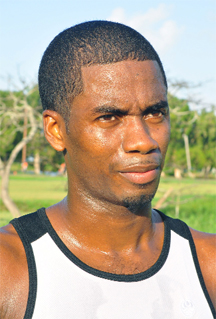 Meanwhile, it was another routine win for the `Little Kenyan' Cleveland Forde, who clocked 32.09s to finish easily ahead of Dennis Horatio 33.34s and the bare-footed Lindener Nathaniel Giddings 33.56s. Cleveland Thomas 34.16s and Trinidad-based, Lionel D'Andrade 34.59s finished fourth and fifth respectively.
The race between the Open men was different from their last meeting, as they did not allow Giddings to develop  any substantial lead as he did at the AILIM 10k two weeks ago.
"It was a good race… I came out to run a smarter race than last time and that's what I did. We went up and as we turned I stepped it up, I didn't try to run any fast time. Last time we allowed Nathaniel to go a little further than expected, so everybody ran a different race this time," Forde told Stabroek Sport.
Forde, who is the 1500 and 5000 metres national record holder ,also related his thoughts of represent Guyana at the Pan American Seniors in the 1500 mteres which he qualified for earlier I the year.
"I haven't done any specific training for it but I will put in some work but I'm prepared to go out and do my best," the distance master concluded.
The junior boys saw Kevin Bailey producing a sensational run with a time of 35.03s to finish ahead of Gravon Grant 35.11s and Chavez Sital 35.12s.
Shanice Hatton clocked 44.24s for first position in the female junior category after out sprinting Adama Roberts in the final metres of the race.
Roberts finished with a time of 44.56s while Alexis Williams placed third in 48.15s.
Sprint queen Alisha Fortune once again reverted to one of the longest version of races in track and field to pick up the first position the the Masters women category in a time of 47.47s while Corleen Phillips 55.17s and Lorri Ann Adams 58.06s finished in second and third respectively.
Surinamese Gullerno Udennhout crossed borders to compete in the 10k, winning the Masters men category in a time of 37.15s while locals Llewellyn Gardner 40.40s and Randolph Taylor 42.19 finished in second and third respectively.
Around the Web