Former national champion Alfred Mentore warmed up for the Guyana Open golf championships billed for mid next month with a scintillating victory in the Seven Seas/Nature Valley Medal Play golf tournament Saturday at the Lusignan Golf course.
Mentore who recently returned to competition following an injury copped the best net and best gross titles in a very close encounter where a few players made serious challenges for the crown.
Mentore shot a net 67 and had gross 76 playing off a nine handicap.
Club Captain Brian Glasford squeezed through to take the second position on a countback from Chatterpaul Deo after both players ended with net 68.
Near to the Pin was Ayube Ali.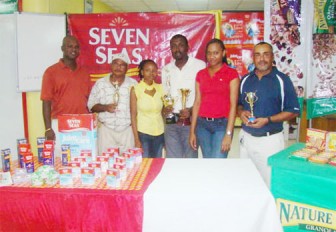 Thirty Two players took part in the tournament and at least fifteen of those players have registered to travel to neighbouring Dutch Republic for the RBTT/ Suriname Open billed for the first week in October at the Paramaribo Golf Club.
President of the Lusignan Golf Club Brian Hackett thanked Geddes Grant Ltd, the local distributors of Seven Seas multivitamin and Nature Valley Granola bar for sponsoring the tournament.
"On behalf of the members of the Lusignan Golf Club, I would like to say thank you for sponsoring the tournament and we do look forward to your continued support," said Hackett.
Geddes Grant Product Specialist for the Seven Seas brand Karen Connell who spoke on behalf of the sponsors said that her company was proud to sponsor the tournament under the two international brands.
"When you use Seven Seas Joint Care range of products you will be able to make those very important swings on the course," she told the players.
Nature Valley was also identified as a major sponsor of international golf tournaments.
Connell noted that Geddes Grant, a member of the Neal and Massy Group and the Lusignan Golf Club shared a long and outstanding relationship.
Connell and Product Specialist for Nature Valley Nickalva Washington presented the prizes to the outstanding players.
Meanwhile, preparations are ongoing for the premier event onthe local golf calendar, the Guyana Open billed for October 22nd and 23rd at the Lusignan Golf Club.
Several overseas players have already indicated their interest in taking part in the prestigious tournament.
Around the Web