LONDON, (Reuters) – The world's leading players are "not afraid" of going on strike unless officials heed their calls to improve the crammed tennis calendar as soon as possible, Andy Murray warned yesterday.
For years athletes such as 10-times grand slam champion Rafa Nadal have complained about the punishing schedule they have to undertake every season, with the top players required to compete in all the four grand slams, nine Masters 1000 events, the season-ending World Tour Finals and a handful of lower-tier tournaments.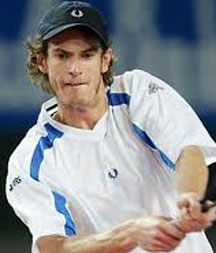 Matters came to a head during the U.S. Open when bad weather forced players in the bottom half of the draw — which featured both Nadal and Murray — to play three singles matches in three days just to reach the semi-finals.
Murray now feels that a jam-packed schedule planned by those who do not actually go out and wield their rackets day-in-and-day-out is no longer acceptable and the time has come for the players to revolt.
Asked if taking strike action will be discussed when the players meet up for the Shanghai Masters next month, the British world number four told the BBC: "It's a possibility. I know from speaking to some players they're not afraid of doing that.
"Let's hope it doesn't come to that but I'm sure the players will consider it.
"If we come up with a list of things we want changed, and everyone is in agreement but they don't happen, then we need to have some say in what goes on in our sport. At the moment we don't.
"We'll sit down, talk about it with the Association of Tennis Professionals (ATP) and International Tennis Federation (ITF), see if they will come to a compromise and, if not, we'll go from there.
"We just want things to change, really small things. Two or three weeks during the year, a few less tournaments each year, which I don't think is unreasonable."
Last November ATP chief Adam Helfant announced that the season would be trimmed by two weeks and a seven-week off-season will be in place from 2012 to placate the players who believe the current schedule is too long.
While the move meant certain tournaments will be re-scheduled, the amount of events will remain unchanged as will player commitments.
RECHARGE BATTERIES
The governing body of women's tennis shortened the WTA season several years ago, ensuring their top draws such as Serena Williams and Caroline Wozniacki will have a chance to recharge their batteries during the Nov. 7-Jan. 2 2012 off season.
In contrast players such as Nadal, who is expected to feature in the Davis Cup final against Argentina, will not get a chance to put his feet up until Dec. 5 and will be back in action again in the first week of January.
"Right now it takes so long to change things," said Murray. "To get another change implemented may take five or six years at the rate things are going and then all of us will be done (retired). We want it to happen sooner rather than later."
ITF president Francesco Ricci Bitti said last week that Nadal's quibbles over the Davis Cup scheduling were "inconsistent", saying players voted for the current dates in 2009 and went against the ITF's wishes.
"The players should and do have a major say in how the game is run, which is one of the key reasons the ATP Tour was formed as an equal partnership between players and tournaments," the ATP said in a statement.
"The health and wellbeing of the players is paramount, and the ATP has implemented a number of changes to address player health concerns in recent years — including reducing draw sizes of ATP World Tour Masters 1000 events, giving byes to the top eight seeds, and eliminating five-set finals.
"We remain committed to working with the players and other governing bodies to continue to address these issues."
Around the Web