Demerara will clash with defending Champions Berbice in the 2011 El Dorado Inter-County limited-overs final on Sunday at Albion, after both sides secured victory of contrasting difficulties in their respective third round clashes, at Georgetown Cricket Club (GCC), Ground, Bourda and Demerara Cricket Club (DCC.
Scores from the matches: Berbice 179 for 1 (Assad Fudadin 74 not out, Narsingh Deonarine 66) defeated Essequibo (178 all out, Yougeshwar Lall 49, Euguene La Fleur 3-25) by 9 wickets.
Demerara 253 for 4 (Shivnarine Chanderpaul 95 not out, Trevon Griffith 51, Vishaul Singh 40 not out, Leon Johnson 35) defeated President's XI 199 for 7 (Steven Jacobs 67, Krishna Deosarran 27, Keith Fraser 27, Trevon Griffith 2-10, Totaram Bishun 2-46 and Kellon Carmichael 2-44) by 20 runs under the Duckworth/Lewis method.
At DCC; This encounter for Essequibo which was practically a de ja vu like drubbing to the one inflicted on them by the President's XI at the same venue a few days earlier.
Berbice who went into that game on third place in the points table and needing a victory to secure their place in the final, begun with skipper Assad Fudadin winning the toss and sending Essequibo into bat. That decision to field first, was immediately vindicated as within the first three overs, both Essequibo openers were back in the hut.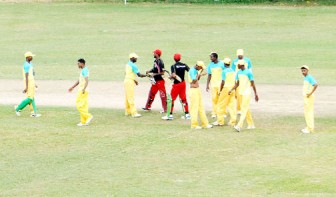 First to go was 2011 Guyana Under-19 opener Kevon Boodie caught and bowled by former Guyana Under-19 medium pacer Keon for 5, with the score on 12. Then next over, Norman Fredericks was bowled by off-spinner Steven Latcha attempting a ugly swipe over long-on for a quick fire 17 (9 balls 1×4, 1×6), as Essequibo slipped to 28/2 although their run-rate was an impressive 11 runs per over.
Middle-order batsmen Yougeshwar Lall and Norwayne Frdericks attempted to rebuild that early damage with a 64-run, third-wicket partnership, but scoring was slow, with those runs being compiled in 20 overs, as the Berbice spin quartet of off-spinners Royston Crandon, Narsingh Deonarine, leg-spinner Shawn Perriera and left-arm spinner Eugene La Fleur – put the brakes on the Essequibo innings. The pressure was getting to the batsmen and in attempting to break those shackles, both players were dismissed within four (4) balls of each other. Fredericks hit a catch to Ramdeen at long-on off the bowling of La Fleur for 24 and Lall perished one run short of his half-century for 49 (91 balls, 5×4), leg-before to Perriera.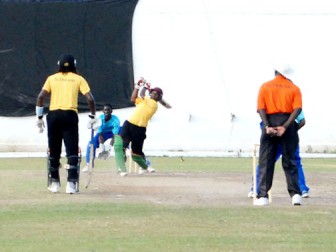 Essequibo's innings at that stage became a procession, as they lost their last seven wickets for 84 runs, to be bowled out for 178 in 47 overs with the aforementioned spin quartet being the principal architects behind this collapse.
Due to the first innings being completed quickly, Berbice had six overs to bat before the lunch interval and openers Fudadin and Richard Ramdeen got them off to a rollicking start of 48 without loss in just six overs.
After the interval, the boys from the Ancient County went into overdrive putting the Essequibo bowlers to the sword, as the knocked of the required runs in just 21 overs, thanks to aggressive half centuries from Fudadin 74 not out (58 balls, 6×4 5×6) and Deonarine 66 (43 balls, 6×4, 4×6), en route to cementing a place in Sunday's final on home turf.
Up the road at Bourda West Indies legend Shivnarine Chanderpaul turned up to represent Demerara, after his short but successful stint with  English County Warwickshire.
While in England, Chanderpaul scored 539 runs from five (5) four-day games at an average of 89.33.
He continued where he left off at the venue where he has scored four (4) of his 23 test hundreds, and his polished innings of 95 not out (90 balls, 9×4, 1×6) was the catalyst behind Demerara's total, in a rain-reduced 45-overs-as-side, top-of-the-table clash.
Demerara, who was without the services of Under-19 leg-spinner Amir Khan who is scheduled to depart for the West Indies Under-19 tour to India, won the toss and elected to take first strike on the sun-drenched – placid, Bourda pitch.
For the third consecutive match, openers Trevon Griffith and Shemroy Barrington got Demerara out of the blocks with a solid start. They posted their second half-century partnership of the competition. Barrington was again the first to go, bowled by off-spinner Steven Jacobs for 17, with the score on 57 in the in the 12th over.
Griffith was next to go in the 17th over,  playing on to his stumps while attempting a cut shot. His impressive 82-minute knock of 51 came from 56 balls and contained eight boundaries.
Demerara skipper Leon Johnson, who had the highest batting aggregate coming into this round, and Chanderpaul, then shared in a 62-run, fourth-wicket partnership as they went about setting the foundation for a big total.
However, the President's XI had a short spike of hope in the 31st over when medium pacer Keon Fraser struck with consecutive deliverys as Johnson feathered a catchto  wicket-keeper Dexter Solomon for 35 (56 balls, 2×4) and Gajanand Singh, who has had a horror tournament, fell for his second duck in three games, as Demerara slipped to 145/4.
Vishaul Singh, who was undefeated on 40 (39 balls, 3×4), joined Chanderpaul who was dropped midway through his innings when on 33 and they went about consolidating the Demerara innings. The pair produced a combination of well calculated boundary shots and purposeful running between the wickets as they shared in a unbeaten 98 run fifth wicket-partnership, at better than a run-a-ball, that propelled Demerara to 253 for 4 in 45 overs.
In reply, the President's XI were set a Duckworth/Lewis target of 264 in 45 overs.
They got off to a slow start, slipping to 46 for 3 in the 15 over, as Demerara's new-ball pair of Paul Wintz and Kellon Carmichael dismissed Artly Bailey (5), Chanderpaul Hemraj (11) and Sewnarine Chattergoon (18).
As the innings progressed it became clear that the required 45 overs would not be completed and the remainder of the President's XI batsmen became caught up in the race to stay ahead of the D/L rate.
Jacobs led the fight with a impressive 67 (73 balls, 6×4), sharing in  a partnership of 89 for the fourth-wicket with Krishna Deosarran (27).
Despite  cameos of 27 (21 balls, 3×6) from Keith Fraser and 22 (20 balls, 3×4) from Dion Ferrier, when the umpires deemed the light unfit for further play and called off the contest at 5:45pm, the President's XI were still 20 runs short of the D/L calculations, with still nine overs left to be bowled.
Scoreboard
Demerara innings
T. Griffith b D. Ferrier                                                       51
S. Barrington b S. Jacobs                                                17
L. Johnson c wk D. Solomon b Keyon Fraser         35
S. Chanderpaul not out                                                    95
G. Singh c S. Jacobs b Keyon Fraser                            0
V. Singh not out                                                                  40
Extras: (11-w, 1-nb, 3-lb)                                             15
Total: (45 overs, four wickets)                                  253
FOW: 1-57, 2-83, 3-145, 4-145
Bowlers: Keyon Fraser 8-0-50-2 (6-w), S. Jacobs 11-1-36-1 (2-w), D. Ferrier 11-0-55-1 (3-w), C. Pestano 8-0-48-0 (1nb), S. Chattergoon 2-0-12-0, Keith Fraser 5-0-49-0
President X1 innings
S. Chattergoon c T. Griffith b P. Wintz                 18
A. Bailey lbw b K. Carmichael                                   5
C. Hemraj c V. Singh b K. Carmichael                  11
S. Jacobs c G. Singh b T. Bishun                             67
K. Deosarran c S. Barrington b T. Bishun           27
Keith Fraser lbw b T. Griffith                                   27
D. Ferrier not out                                                         22
C. Pestano C K. Carmichael b T. Griffith                 0
Keyon Fraser not out                                                    0
Extras: (15-w, 1-nb, 4-b)                                           20
Total: (36 overs for seven wickets)                     199
FOW: 1-12, 2-32, 3-46, 4-135, 5-150, 6-192, 7-192
Bowlers: P. Wintz 10-0-50-1 (11-w), K. Carmichael 9-0-44-2 (3-w), Z. Mohamed 8-0-34-0 (2-w, 1-nb), T. Bishun 8-0-46-2, T. Griffith 1-0-10-2
Around the Web