By Ivan Wharton
The Diamond Mineral Water indoor hockey tournament should be back on track in December. This is, according to Philip Fernandes, president of the Guyana Hockey Board (GHB).
Fernandes said that Sport Ministry has given the board the assurance that the necessary repairs to the floor of the Cliff Anderson Sports Hall would be completed in time for the tournament.
"It's not a complete overhaul of the floor or of the parts of the floor that were not changed last year. "But nevertheless, it's work that we feel confident will suffice to make the floor playable to good standard or at least to the standard it was before."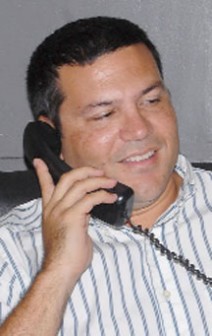 The repairs, he said, should start in the last week of October while the competition starts in the second week of December.
Upon inquiring, Fernandes said he learnt that the works were not done last year because no monies were allocated for floor repairs in the national budget.
The delay now, he said, has been blamed on the preparation of the teams to compete in the Inter Guiana Games. When those teams leave, repairs, he said would follow.
Ministry officials Fernandes said, have informed the hockey board that the materials to carry out the repairs have been purchased.
"As long as the repairs are started it is not that extensive, I think it would take a week or less. In fact the hockey board has been invited to oversee what is going on just to make sure that everything is done in the way we would need it."
Fernandes said that despite last year's disappointment several of the major sponsors have recommitted to this year's competition.
"We expect this tournament to be a good one. We think that in the absence of it last year, teams missed the opportunity and they were disappointed about it.
Since then they have indicated that they would like to come this year, since they did not compete last year and so we are expecting a good turnout."
Fernandes said that he was not making any specific disclosures on sponsors or the overseas teams expected until its official launch.
The Diamond Mineral Water tournament is one of biggest tournaments on the hockey board's calendar. This is the only international tournament that the hockey board has been able to organize in Guyana because of the absence of an artificial surface.
After five successful years, that tournament was cancelled last year after repairs to the Cliff Anderson Sports Hall left the floor in an unplayable state.
The floor was not evenly finished which led the board to make its decision after considering the safety of its players and spectators.
The board's contention was that the ball could cause serious damage to a player or spectator when it comes in contact with the uneven floor boards.
Around the Web