Five less fortunate students from  Port Mourant Secondary received $75,000 worth of educational and personal hygiene items, sport gears and a pair of
footwear each when the Rose Hall Town Youth & Sports Club hosted its fourth Annual Moniz Memorial Educational Trust Fund on Monday.
The students were selected by the management of the school based on discipline, attitude and performance in the classroom. The students: Meena Devi Sookchine, Denzil Sinclair, Akeem Hooper, Rajkumar Sookra and Tevin Mc Kenzie received the items under a joint co-operation agreement between the club and Nadine Budhoo, daughter of the late Patricia Moniz.
Secretary/CEO of the RHTY&SC Hilbert Foster in handing over the educational packages explained to the awardees that the late Patricia Moniz was an advisor to the RHTY&SC and a stalwart of the Roman Catholic Church which is based in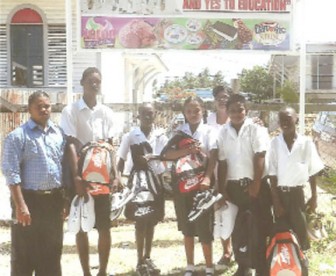 the same compound as the school. Moniz, he said, always had a passion for children to pursue a sound  education as she strongly believed that education was the foundation of a successful future. Foster urged the five awardees to always be disciplined, committed and to work hard. He also pledged to the students that once they remain focused  continued investments will be made for their future success. The club administrator also expressed gratitude to  Budhoo for keeping her mother's memory alive by sponsoring the event and urged the awardees to live their lives according to the example set by the late Moniz. Head Teacher of the school, Colin Bynoe praised the club and its different cricket teams for the huge role they are playing in assisting his school and its students and called on the five awardees to make sure that they attend school regularly and to be role models to their peers. The five awardees all expressed gratitude to the club and Budhoo for investing in their future and committed themselves to show improvements in their schoolwork.
The programme was organised by the Rose Hall Town Farfan & Mendes Under-15, Pepsi Under-19, Gizmos & Gadgets Under-23 and Bakewell Under-17 teams of the club.
Around the Web