By Iva Wharton
The Guyana Netball Association (GNA) has signed onto a seven hundred and fifty thousand sponsorship deal with Digicel. That agreement would see three competitions running annually; Inter organization, school and an Open league.
Secretary of the GNA Shanomae Baptiste said that they were in negotiations with the phone company for close to two months before the deal was struck.  Baptiste said that already letters were sent to a number of schools at the primary and secondary levels. Also letters were sent to the University of Guyana and the Cyril Potter College of Education.  She said those letters will be followed by personal visits to all the schools selected to find out whether they would be fielding teams.
Part of the programme is to ensure that the students are exposed to training as the intention is to pull new comers to the sport and the schools level is the best place to start, Baptiste said.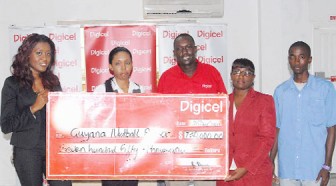 She also said that one of the positives of the sponsorship is that the association would be in a position to restart its under-21 tournament. Under this new partnership, the association will run off its open senior league which should start next weekend. That competition will feature five teams; Imani, Doves, All Stars, Eagles and Fearless Flyers.
Tournament Coordinator Warren Wilson said that they are pleased that Digicel has chosen to come on board.
"This league was brought about to keep the interest of netball players alive, we have had a tough time keeping them interested in the sport".
He said that these competitions together with tournaments organised by the GNA would keep the players active. The lack of regular tournaments, he said, was one of their major problems. Presenting the cheque yesterday was Public Relations Officer Shonette Moore. The Company's Events and Sponsorship Manager, Gavin Hope, said that Digicel is happy to be partnering with the GNA.
He said when the company approached the company for sponsorship there was not much to think about, but working out the terms of the agreement. Investing in sports especially at the schools level contributes to the longevity of the sport and the development of the players involved.
Around the Web