CHENNAI, India, CMC-IANS – Kieron Pollard is chafing at the bit going into the Champions League Twenty20 in a bid to make up for his dismal showing in this year's Indian Premier League.
The big-hitting Trinidad & Tobago and West Indies all-rounder scored 146 runs, averaging just 14.60, and was generally inconspicuous.
It was thought that Mumbai Indians captain Sachin Tendulkar erred in not asking Pollard to bat higher up the order.
Consequently, in the 16 matches that Pollard played, he got to face just 133 balls, often in a hit-or-miss situation.
"Any cricketer would love to grab the opportunity to bat high up the order and try to maximise the time," the 24-year old said yesterday during an interaction with the media here.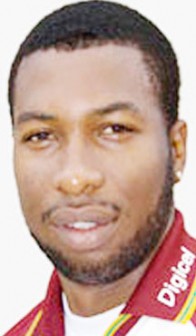 "Having said that, there are 11 players out there, and it is the team management that decides on these matters.
"Whatever the position that I am slotted into, I will do my best and see we qualify for the semi-finals this year."
Pollard first made his mark in T20 when he assisted T&T in reaching the final of the 2009 CLT20.
Thereafter, he was picked up by Mumbai Indians whom he favoured rather than his home team T&T or, for that matter English county side Somerset, in this year's CLT20.
When asked about the choice he made, Pollard said: "I did not see any dilemma, and at the end of the day, I play for Mumabi Indians.
"It was the team that I was thinking about and I played for Mumbai. I am here to play for Mumbai Indians."
Regarding Tendulkar's absence due to a toe injury, Pollard said: "Obviously, Sachin is an important person in our team. He has passed on his knowledge. Guys have learnt a lot from him and whoever gets a chance has to perform."
When asked about Harbhajan Singh's fitness in the wake of the abdominal strain that forced him out of the recent One-day International series against England, Pollard said: "I cannot answer that for you. He has been bowling at the nets.
"He is confident, and at the end of the day, you know you had a bad series, but he has got to be motivated and come up with solid performances."
Pollard said the team has been working hard on preparing for the tournament with camps in Baroda and Bangalore.
"Preparations have been pretty good," he said. "I joined the team a couple of days ago, but the boys have been preparing at camps in Baroda and Bangalore.
"They have been training hard and looking forward to the competitive matches in the CLT20."
On the forthcoming matches, Pollard said: "Four games in the preliminary league. You get an opportunity, and you do well for your team and yourself.
"If you do not get an opportunity, so be it. We will have a game plan for the first match and then we will see how that plan works and try to improve each and every game as we go forward."
Mumbai Indians face defending champions Chennai Super Kings, the IPL champions, in their opening fixture on Saturday.
Pollard was well aware of the home advantage, but gave his team a good chance to pull it off.
"It is a game of cricket," he said. "Obviously, it is their home ground and so, it is advantage for them. We go there as 11 versus 11, whoever plays better comes out as the winner."
Around the Web