By Emmerson Campbell
The 18th edition of the Guyana Boxing Board of Control (GBBC) Pro Am Friday Night Fight card will box off tonight at the Cliff Anderson Sports Hall.
The card will comprise four amateur and four professional bouts.
The main event of the card will be a six-round junior middleweight bout between Winston Pompey and Simeon 'Candy Man' Hardy.
The undefeated Hardy, who trains at the Forgotten Youth Foundation (FYF) gym, boasts a record of four wins with three of them coming by way of knockouts, including South America's fastest, a 20-second demolition of Patrick Boston last October.
However, Winston Pompey who lost his last fight by KO in Jamaica this past May will be looking to create an upset.
The 32-year-old Pompey, who trains at the Andrew 'Six Head' Lewis gym, has a record of four wins, nine losses and two draws, with three of his victories inside the distance.
On Tuesday, Stabroek Sport caught up with the card's headliners and their trainers at their respective gyms to get an insight into and predictions on the bouts.
The boxers were also present at a press briefing held yesterday at the National Communications Network (NCN) studio on Homestretch Avenue where the customary barbs were thrown.
George 'Canchie' Oprecth, trainer of Pompey, noted that his fighter has been training for the bout for the past six weeks, sometimes twice per day. Oprecth said Pompey is the more battle-tested fighter, is stronger than Hardy and he expects a victory. Oprecth added that Pompey is far better than the boxers Hardy has fought and Hardy is still an amateur who needs to be taught a boxing lesson.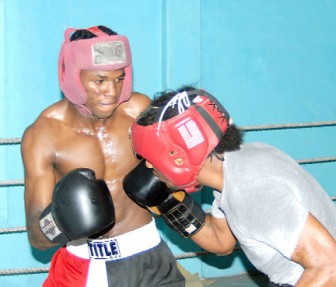 While at the press briefing, the calm but confident Pompey echoed his trainer's views. Pompey said he will use his experience and superior power and skill to gain the victory over Hardy. The journeyman insisted he will teach the younger Hardy a boxing lesson. Pompey reiterated that he will thoroughly outbox Hardy and if the knockout opportunity presents itself he will go for it.
Joseph Murray and Sebert Blake, Hardy's trainers, brushed aside what Oprecth had said and opined that Pompey may be worse than some of Hardy's past opponents. Murray mentioned that Hardy's speed and punching power will overwhelm Pompey and the bout may not go the distance.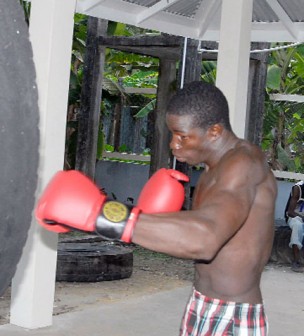 During the press briefing, Hardy quipped that it was Tom Cruise who starred in the movie Mission Impossible and not Pompey, hinting that it would be impossible for Pompey to defeat him.
Boasting that he has a punch called "the chin check", the 'Candy Man' said if Pompey can stand up to "the chin check" then he may stand a chance of going the distance.
The bout will serve as title eliminator for the highly competitive division with the winner likely to face Trinidad-based Iwan Azore.
The card will also feature Jermaine 'Two Bad' King coming up against Barbadian Miguel 'Hands of Stone' Antoine in a welterweight bout. King has two defeats in his two-fight professional career while the undefeated Antoine has 15 wins with nine of them coming by way of knockouts.
Debutant Kelsie George, representing Pocket Rocket Boxing gym (PRBG), will match gloves against Forgotten Youth Foundation's (FYF) Troy Lewis in a four-round middleweight contest. Lewis, who was last defeated by Hardy in December last year, has a record of four wins, 10 losses and one draw.
Another debutant, bantamweight Shaeed Alli, will seek to start his professional career on a positive note as he is aiming to defeat Charlton Skeete, who has lost all three of his professional fights.
The amateur segment of the card will feature PRBG's Richard Williamson going up against Harpy Eagles' Branco Gouveia in a bantamweight bout. Guyana Defence Force's (GDF) Trevon King will match gloves with Warren George from Five Stars boxing gym in a welterweight contest.
In a junior welterweight contest Kishon Smith will battle Marlon Darrel from Ricola Warriors and in another junior welterweight bout, Tiger Eye's Travis Fraser will take on GDF's Kevon David.
The card which is normally held on the last Friday in every month was brought forward by one week to prevent a clash with the annual GuyExpo exhibition.
The monthly card is an initiative of the GBBC in collaboration with the Ministry of Sport and NCN.
Sponsors of the event include Digicel, Giftland Office Max, Courts, Banks DIH Limited and Ansa McAl.
Admission is $1,000 while children will be asked to pay half price.  Bell time is 20:00 hrs
Around the Web