BERLIN (Reuters) – World marathon record holder Paula Radcliffe has dismissed any suggestion that she will be under extra pressure as the home favourite in next year's London Olympics after failing to do herself justice in the last two Games.  Radcliffe was forced to drop out of the 2004 Athens Olympic marathon through illness and injury. Four years later she finished 23rd in the Beijing race after her preparations were hampered by injury and at the age of 37 she has yet to win an Olympic medal on either the track or the road.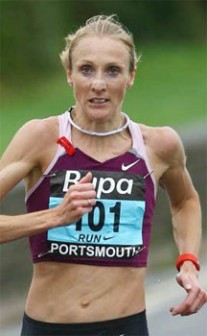 At a news conference yesterday before Sunday's Berlin marathon, which is likely to be the Briton's last race over 42.195 kms before the London Games, Radcliffe said she viewed the 2012 Olympics as a special opportunity.
"I know the streets. I know that we will have great support and it will be a really good Olympics. I'm excited to have the chance to take part in that," she said.
"I think that wherever it was there would be pressure because I feel I haven't yet gone to the Olympics in the marathon and done as well as I'm capable of doing.
"That pressure would be there wherever it was, I actually think that because it's in London it adds good things rather than bad things.
"I think really the whole pressure that everybody talks about kind of only plays a role if something goes wrong. I know going into the last couple of weeks into Athens I was injured and the pressure suddenly becomes this big thing that is really hard to bear.  "I think that when you are healthy and fit and ready to go it's something that is just part of running, just nerves, it's not a really bad thing."
Radcliffe lost her world record of two hours 15 minutes 25 seconds set in the 2003 London marathon when the International Association of Athletics Federations (IAAF) decided last month that it would accept only times set in all-women competitions.
Instead her time of 2:17:42 set in the 2005 London race will now be recognised as the world record while the 2003 mark will be called a world best.
The decision was criticised by the World Marathon Majors, comprising the annual London, Boston, Berlin, Chicago and New York races, and the Association of International Marathons.
Yesterday, Berlin race director Mark Milde called it a backward step and twice London champion Irina Mikitenko said she thought it was a joke.
Radcliffe said she thought she would have run a similar time in 2003 even without two male pacemakers.
"I honestly don't think that you are going to run any harder with men than without men unless they're all around you. I don't like running behind someone anyway," she said.
Radcliffe said she had no thoughts of retirement even if she won gold next year and raised the possibility that she could compete at the 2016 Rio de Janeiro Games.
"I want to keep racing as long as I enjoy racing, if there's not something else I'd rather do and at the moment there isn't," she said.
Around the Web