By Iva Wharton
Guyana Hockey Board (GHB) president Phillip Fernandes said the sport ministry will only make available a plot of land to build an artificial hockey pitch when the Board has secured the $20M needed to build it.
Fernandes said Minister of Youth, Culture and Sport Dr Frank Anthony made this declaration at a recent meeting. According to Fernandes, Anthony also gave assurances that once the Board has the necessary sum an official commitment would be made.
"In the past he had said he would give us it in writing, but I think this time around he is a little bit sceptical because of other sporting disciplines who have not delivered on their promise," Fernandes said.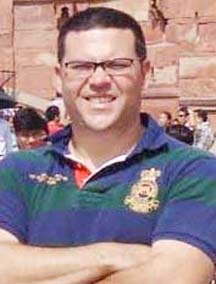 Constructing an artificial surface here is expected to cost $20M, which, Fernandes said, is a tall order considering that the GHB does not have the money. He said he hopes the recent successes, particularly the women's performance in Brazil would, would pay off when representation is made at the Pan American, the International Hockey Federation and other sponsors. "It's  now or never for hockey, it's something that we must get done if the sport is to continue and if we are to continue competing successfully internationally," he said.
The promised piece of land is located at Providence, near the National Stadium, and Fernandes said, the minister has already noted concerns about the erection of billboards at the site. "The Providence stadium has to be a sterile environment when it comes to putting up billboards, so that is a difficult dilemma for us. How could we approach big companies to put money into this and we can't give them anything?" he questioned. The Board is exploring the possibility of using removable billboards though further discussions on this issue will be made at a later date.
The GHB president said they would need about five years to complete the artificial hockey pitch though he noted if it is built before the 2013 Pan American qualifiers in Argentina it would be of great assistance to the women's team. Fernandes lamented the lack of an artificial pitch, saying that it put the ladies at a disadvantage.
"I think that the women have exceeded themselves in Brazil; they are an enthusiastic bunch, they are talented and they have put in the necessary work. The next level in Argentina would be even higher and it would be tougher competition. They will be playing against world class teams such Argentina and Chile and I think without an artificial pitch it would be very difficult and almost impossible to prepare the team to play the adequate level they would need to play," he explained.
He also noted that because Guyana does not boast such a surface it has not been able to attract any international indoor competition. In some instances, local hockey teams are also forced to travel to Trinidad and Tobago to practice on an artificial surface before any major international tournament.
Around the Web