LONDON, England, CMC – A novice West Indies team were no match for World champions England and slumped to a 10-wicket defeat at the Oval, in the first Twenty20 International of the two-match series here yesterday.
They were gifted a bright start by debutant Johnson Charles (36) and the experienced Dwayne Smith (33) but lost their last eight wickets for 28 runs in the space of 36 balls, to collapse to 125 all out off 19.4 overs.
Medium pacer Ravi Bopara claimed four for 10 to wreck the innings and earn Man-of-the-Match honours while left-arm spinner Samit Patel supported with two for 23.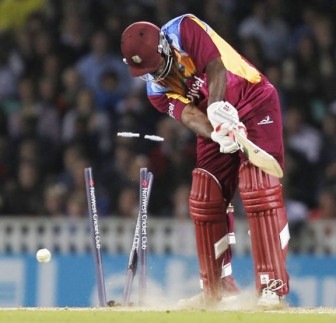 Alex Hales, in only his second T20I, then stroked a belligerent, unbeaten 62 and opening partner Craig Kieswetter, 58, as England made light work of their target, winning with 28 balls to spare.
Sent in at a venue where they have reaped success in the past, West Indies were given a robust start by Charles and Smith who posted 51 from 30 balls.
The 22-year-old right-hander Charles faced 39 balls and struck three fours and a six while Smith played some breathtaking strokes in counting three fours and two sixes off 21 balls.
Smith, playing his first international in 18 months, took charge from early, launching a severe attack on Test seamer Tim Bresnan in the third over of the innings.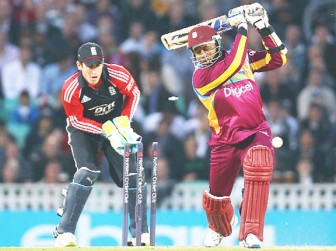 He flicked the first ball through square for four, hoisted the second ball over long-on for six before driving handsomely through cover for another four.
A short-arm pull over square off the fifth ball summed up an over that cost 22 runs and forced Bresnan out of the attack.
The introduction of Patel saw Smith's demise, as the right-hander missed one that turned slightly and was bowled with the last ball of the spinner's first over.
Marlon Samuels lasted four balls before he was bowled by captain and off-spinner Graeme Swann at 62 for two at the end of the ninth over but Charles and Danza Hyatt put on an entertaining 35 off 28 balls for the third wicket.
Hyatt stroked 28 from 26 balls with a four and pair of sixes and along with Charles, was setting the Windies up nicely, when it all fell apart.
Charles cleared long-on with Patel but tried for encore the very next ball and succeeded only in finding Steven Finn running in from the deep in the 14th over at 97 for three.
All-rounder Nkruma Bonner, one of three debutants on show for the Windies, saw his international debut last five balls before he was bowled by a straight one from Bopara, seven runs and 10 balls later.
Chris Barnwell was brilliantly caught by wicketkeeper Kieswetter off the next ball without scoring and exciting all-rounder Andre Russell (6) and Hyatt fell in successive deliveries in the 18th over, to leave the Windies struggling at 112 for seven.
There was no happy ending as England clinically wrapped up the innings with incisive bowling and sharp fielding. Hales swatted the first delivery of England's response – a wide ball from captain and medium pacer Darren Sammy – through the offside for four to signal his side's intent, and Kieswetter followed up with a leg-side four and six off pacer Fidel Edwards in the next over.
The 22-year-old right-handed Hales hit eight fours and a six off 48 balls while Kieswetter carved out three fours and two sixes off 49 balls. West Indies struggled to contain the rampant duo as runs flowed freely, and Kieswetter finished the game in style with a boundary to cover off medium pacer Smith.
SCOREBOARD
WEST INDIES
J Charles c Finn b Patel                                                     36
D Smith b Patel                                                                33
M Samuels b Swann                                                           4
D Hyatt b Bopara                                                              28
N Bonner b Bopara                                                             3
C Barnwell c wkp Kieswetter b Bopara                                0
A Russell run out                                                                6
+D Christian b Dernbach                                                    0
*D Sammy c Bairstow b Bopara                                          5
D Bishoo run out                                                                0
F Edwards not out                                                              7
Extras (w3)                                                                       3
TOTAL (all out; 19.4 overs)                                           125
Fall of wickets: 1-51 (Smith, 6 overs), 2-62 (Samuels, 9), 3-97 (Charles, 13.4), 4-104 (Bonner, 15.2), 5-104 (Barnwell, 15.3), 6-112 (Russell, 17.2), 7-112 (Hyatt, 17.3), 8-116 (Christian, 18.2), 9-117 (Bishoo, 18.3), 10-125 (Sammy, 19.4)
Bowling: Bresnan 2-0-26-0, Finn 2-0-16-0, Dernbach 4-0-20-1, Patel 4-0-23-2, Swann 4-0-30-1, Bopara 3.4-0-10-4.
ENGLAND
A Hales not out                                                                 62
+C Kieswetter not out                                                       58
Extras (w3, nb5)                                                                8
TOTAL (without loss, 15.2 overs)                                   128
Did not bat: R Bopara, J Buttler, B Stokes, J Bairstow, S Patel, T Bresnan, *G Swann, S Finn, J Dernbach.
Bowling: Sammy 3-0-20-0, Edwards 2-0-25-0, Russell 2-0-21-0, Bishoo 4-0-28-0, Barnwell 2-0-12-0, Bonner 2-0-18-0, Smith 0.2-0-4-0.
Result: England won by 10 wickets.
Series: England lead two-match series 1-0.
Man-of-the-Match: R Bopara.
Toss: England.
Umpires: Rob Bailey, Nigel Llong; TV – Ray Illingworth.
Around the Web