'Controversially Yours'. There couldn't have been a more apt title to the autobiography of Shoaib Akhtar, arguably the most controversial cricketer of modern times. Naturally, the audience came to the book launch hoping for many more skeletons to tumble out of the former fast bowler's closet, especially with provoking excerpts like "Tendulkar was scared to face me" already doing the rounds.
That was, however, not to be. Instead, it was a defensive Shoaib on view. The Rawalpindi Express took pains to put to rest the controversies the book could generate. The first issue he tried to play down was the one about Tendulkar. The book says, "We managed to psychologically browbeat him. We bounced the ball at him and were able to unnerve him. I returned to the dressing room that first day with the knowledge that Sachin was not comfortable facing the fast and rising ball. And he was distinctly uncomfortable against me."
Shoaib, however, clarified that his observation weren't general in nature. "He was suffering from tennis elbow and we knew he couldn't hook or pull, and would try to defend himself. Having said this, I don't mean he's scared of me or he can't face me," he said.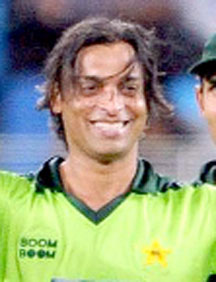 He treaded with caution when asked about his remarks on Rahul Dravid and that he wasn't a match-winner. "Dravid is a nightmare to any bowler in Tests. Getting him out is like scaling the Himalayas. He has changed his ODI batting too. I am talking about a particular time, and people have transformed over a period of time," said Shoaib.
Other than this, all he had to narrate were some juicy anecdotes from his personal life and the dressing room. But the bad boy of Pakistan cricket refrained from sharing anything that could startle his audience.
Shoaib did admit to ball-tampering, but played it down saying everyone does it. He dwelt on match-fixing, too, but refrained from giving out names or making oblique references.
So, what's the idea behind coming out with the book? "The idea is certainly not to create controversy. If I wanted that, I could have done it through other ways. The whole idea is to let people know my side of the story. I have been through so much, so I thought it was time I tell my side of the story."
Around the Web