Football officials in Guyana yesterday gave varying reactions to the news that former president of the Guyana Football Federation (GFF) Colin Klass had been banned for 26 months by FIFA for his role in the votes-for-cash scandal.
Once thought untouchable Klass was banned by the world governing body and asked to pay a fine of $5000 Swiss francs.
Klass, who headed the local governing body since 1989, yesterday appeared before the Ethics Committe, chaired by Switzerland's Claudio Sulser and was banned from taking part in any football-related activity (administrative, sports or any other).
According to FIFA's website, Klass breached articles 3, 9 and 14, of the FIFA Code of Ethics, following an investigation into the special meeting of the Caribbean Football Union (CFU) in Trinidad & Tobago on May10-11.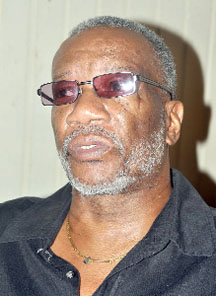 Commenting on the ruling, acting president of GFF Franklin Wilson said that all must now come together to strengthen the pillars of football in Guyana. Wilson said that now was the time for all in the football fraternity to unite.
He highlighted the two court matters that were brought by the Georgetown Football Association (GFA) and said they will be addressed so as to bring about a resolution.
He also emphasised that there will be no power struggle in the federation  since he believes that although Klass, will not be around, there has to be a leader. Wilson is that leader and he wants "all and sundry to be team players for the common goal of football development."
Wilson was elevated to the top post when Klass was provisionally suspended last month by FIFA.
Wilson, once the longest serving vice president of the GFF, said that every official has a role to play and this was not the time for personal development but rather the development of the sport and the players.
Commenting on the ban, Wilson said:"I am not saying that Klass is guilty or not guilty," but "if one wants to be a part of an organisation one has to play by the rules and FIFA would have acted based on what was found."
He added: "and that goes for associations in Guyana," lest "you deal with the consequences."
Secretary of the Bartica Football Association (BFA) Carlton Beckles, said he believes that Klass was only banned because he was a close ally of once Caribbean football strongman Austin 'Jack' Warner.
He said that while he expected a penalty from FIFA, it was a harsh one.
He outlined that nothing was wrong with showing support for someone but he has a problem when Guyana is continually being dragged in the ground for accepting money from Mohammed bin Hammam, who reportedly handed out envelopes with US $40,000 to CFU delegates at the May meeting.
Meanwhile, Alpha United FC president Odinga Lumumba said that yesterday was a sad day for Klass and his family and football in general. However, Lumumba intimated that this is the time to end the "backwardness and one man show" that football has seen for over two decades.
Lumumba opined that it is time to move forward and have a clean slate for football in Guyana which should start with the resolution of the standoff between the GFF and the GFA. Lumumba, who is also the Adviser to President Bharrat Jagdeo on Empowerment, said that somebody with vision is needed to take the GFF out of this challenging period.
Around the Web