Team Sammy comprising Edmund Sammy, Theo Bascom, Hilbert Alli, Terrence Damon, Manniram Shew and Rondell Charles took top honours last Wednesday  when domino enthusiast Manniram 'Packer' Shew brought together players from  four clubs to participate in a friendly encounter.
Eighteen players drawn from International 6, Barbados, Strikers and Wild Bunch dominoes clubs participated in the mixed team match at the Strikers Sports Club.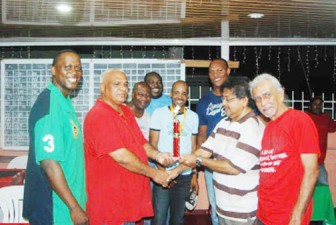 The names of the players were placed in a bag and picked out at random to play on teams captained by Edmund Sammy (S6), Intikab Alli (A6) and Kirton (K6).
The members of the teams for A6 were Intikab Ali, Michael Brown, Gairy Jansen, Charles Dodson, Noel Ramchurejge and Shawn Trotman while the members of K6 comprised  Anthony Kirton, Ron Callender, Cathie Rollins, Martin Premaul, David Patterson and Navin Samaroo.
Following the conclusion of the match Terrence Damon with the maximum 18 games, Intikab Ali also with the maximum 18 games and Anthony Kirton received medals.
There were two lovebirds when Barbadians Cathy 'Worked Up' Rollins and Theo 'Super Cool' Bascombe were both taken down lovers lane.
Around the Web