LONDON, CMC – Garey Mathurin scalped three wickets for nine runs from four overs in an impressive debut, sparking a 25-run victory for West Indies, and crashing England's end-of-season party in the second and final match of their Twenty20 International series yesterday.
The 28-year-old Mathurin earned the Man-of-the-Match award for the best figures for a T20I debutant, as England were dismissed for their lowest T20I total of 88 in 16.4 overs, replying to West Indies' 113 for five from their allocation of 20 overs on a slow pitch at The Oval.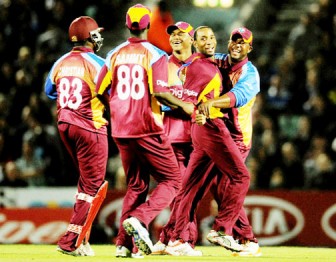 Mathurin stifled the top-order batting with his typically flat, skiddy left-arm spin, and sharp fielding, epitomised by four run outs, carried West Indies to a stunning victory in the low-scoring, final international match of the English summer.
"As everyone is aware, I came on this trip at the last-minute and I just wanted to show the West Indies public the stuff of which I am made," said Mathurin, who was a late replacement when off-spinner Ashley Nurse failed to meet the minimum fitness standards of the team.
"I was very nervous at the start – if you do not have nerves it means that you are not human – but once I got one or two deliveries to pitch in the right areas, I quickly settled down into doing what I can do."
He added: "[West Indies captain] Darren Sammy was cheering me on and telling me to do my thing, so I just stuck to the basics, and did what got me here.
"When the England team bowled, we saw some turn from the pitch, so I just tried to mix things up, and make it difficult for them to predict what I was bowling."
The result meant that the two-match series ended tied at 1-1, after England won the first match by 10 wickets last Friday at the same venue.
Left-arm medium-fast bowler Krishmar Santokie, also making his debut, gave West Indies the breakthrough, when he bowled opener Alex Hales in the third over for two.
Mathurin swung the game, when he bowled Craig Kieswetter for 10 and Ravi Bopara for three in successive overs, leaving England 24 for three in the sixth over.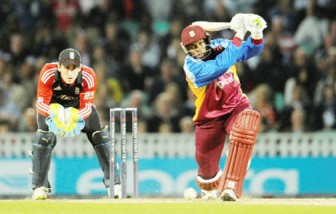 But Mathurin's most decisive strike came in the eighth over, when he also bowled  Jonny Bairstow for four, triggering a collapse that sent England crashing from 44 for three to 60 for seven in the 12th over.
"I regularly open the bowling for Windward Islands in domestic cricket, so taking the new ball was nothing unfamiliar for me," said Mathurin.
"The England batsmen not having much knowledge of me was also a huge advantage. Our coach mentioned this to me, and it worked out well in this match."
He said: "I have achieved what I wanted to achieve on this particular trip, try to make a bid for a regular place in the side because of the circumstances which led to me coming on this trip."
West Indies met some resistance from Ben Stokes with the top score of 31, but leg-spinner Devendra Bishoo trapped him lbw in the 15th over, and two sharp run-outs brought the curtain crashing down on the hosts.
Earlier, West Indies again failed to inspire any confidence in their batting, after England put them in to bat.
Marlon Samuels hit the top score of 35 not out and opener Johnson Charles supported with 21, but no other West Indies batsman reached 20.
The visitors found scoring runs at a premium, limping to 64 for four in the 15th over before Samuels and Sammy added 34 for the fifth wicket to make reaching the 100-run threshold a reality.
Most of the players on this trip return to the Caribbean, but Sammy, Samuels, Bishoo, Fidel Edwards, Danza Hyatt, and Andre Russell leave on Monday for Dubai, where they will meet up with other players and spend time preparing for the tour of Bangladesh which opens on October 4.
Scoreboard
WEST INDIES (maximum 20 overs)
J. Charles b Borthwick                                             21
D.R. Smith lbw b Dernbach                                    11
M. Bascombe lbw b Patel                                         3
M. Samuels not out                                                  35
C. Barnwell c Hales b Patel                                    16
*D. Sammy c Borthwick b Bopara                      12
A. Russell not out                                                      12
Extras (lb1, w2)                                                           3
TOTAL (5 wkts, 20 overs)                                    113
+D. Christian, G. Mathurin, D. Bishoo, K. Santokie did not bat
Fall of wickets: 1-18 (Smith, 3.4 overs); 2-24 (Bascombe, 5.2); 3-42 (Charles, 8.5); 4-64 (Barnwell, 14.4); 5-98 (*Sammy, 17.6)
Bowling: Bresnan 3-0-12-0 (w1); Patel 4-0-22-2; Dernbach 3-0-19-1 (w1); Borthwick 4-0-15-1; *Swann 2-0-8-0; Bopara 4-0-36-1
ENGLAND (target: 114 off 20 overs)
A. Hales b Santokie                                                               2
+C. Kieswetter b Mathurin                                                10
B. Stokes lbw b Bishoo                                                         31
R. Bopara b Mathurin                                                            3
J. Bairstow b Mathurin                                                         4
S. Patel run out (Bishoo)                                                       2
J. Buttler run out (*Sammy)                                             13
T. Bresnan c Mathurin b Russell                                        2
S. Borthwick run out (Samuels/*Sammy)                     14
*G. Swann not out                                                                     0
J. Dernbach run out (Barnwell/+Christian)                  3
Extras (lb3, w1)                                                                         4
TOTAL (all out, 16.4 overs)                                               88
Fall of wickets: 1-12 (Hales, 2.4 overs); 2-14 (Kieswetter, 3.2); 3-24 (Bopara, 5.4); 4-44 (Bairstow, 7.3); 4-52 (Patel, 9.4); 6-55 (Stokes, 10.4); 7-60 (Bresnan, 11.6); 8-83 (Buttler, 14.5); 9-85 (Borthwick, 15.6)
Bowling: Santokie 3-0-17-1; Mathurin 4-0-9-3; Bishoo 3.4-0-22-1; *Sammy 2-0-9-0; Russell 2-0-14-1 (w1); Smith 2-0-14-0
Result: West Indies won by 25 runs
Series: Two-match series tied 1-1
Man-of-the-Match: G. Mathurin (West Indies)
Umpires: R. Illingworth, N. Llong
TV umpire: R. Bailey
Matchreferee: J. Crowe
Reserve umpire: T. Robinson
Around the Web