(Reuters) Controversial Pakistani speedster Shoaib Akhtar has created a flutter by openly admitting that he, along with all his contemporaries in the team, have regularly indulged in ball-tampering.
Pakistan fast bowlers over generations have always been under the scanner for ball-tampering whenever they have got the ball to swing more than usual but Akhtar is the first to admit that he indulged in the malpractice, which is banned in international cricket.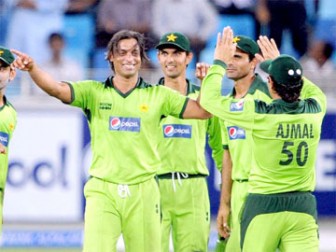 "Almost all fast bowlers have tampered with the ball. I may be the first one to openly admit to it but everybody is doing it," the maverick fast bowler has revealed in his just-published autobiography "Controversially Yours."
"To be honest, every team in the world tampers with the ball. We probably might have started it but today no team is innocent and virtually every fast bowler does it. That is the only way to survive because the wickets are so slow." Akhtar, who was twice suspended by ICC for ball tampering during his career, defends the speed merchants for indulging in this illegal cricketing activity.
"After years of not allowing bouncers, in 2001, the ICC ruled that only one would be allowed per over. The pitches are dead and slow and made to order for batting. It's the bowlers who are curtailed. It's like giving match practice to people. We are hit all over the ground," he lamented in his book.
Around the Web