(Reuters) The T20 cricket has brought along quite a few innovations, both in batting and bowling. If batsmen have added strokes like 'scoop' and 'switch hit' to their repertoire, bowlers have responded with 'carom ball' and 'yorker' wide off the off-stump. In times where everyone is desperately looking for something new to hoodwink his opponents, an old but rare craft of left-arm unorthodox spin bowling, popularly called 'chinaman', is trying to keep itself relevant.
Few protagonists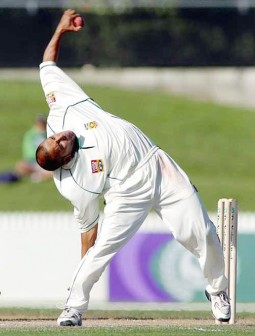 As has always been the case, the practitioners of this art are few. In the Champions League, 21-year-old Michael Rippon of Cape Cobras is plying the tough and largely unconventional trade.]]
"It's a difficult art and no wonder there are only a few trying their hand at it," said Rippon, who's been impressive in this outing.
Quite befittingly, the youngster back home trains under Paul Adams, one of the most famous 'chinaman'.
"I spend a lot of time with Paul to learn as much as possible. He's the coach of our state side, Western Province."
Apart from Adams, Rippons idolises former Australia spinner Brad Hogg, another 'chinaman', too.
For longer version
Rare they may be, but the South Africans feels 'chinaman' could do really well in the longer version of the game.
"We use our wrists to extract extra turn, and that could be quite handy when the pitches tend to crack over fourth or fifth day of a match," he said.
Finger spinners, he thinks, have an edge over them in T20 cricket as they could dart in the ball to restrict scoring.
Around the Web