Junior 400 metres national champion Stephan James did his native land proud when he ran away with a bronze medal at the 2011 South American Junior Championships last Saturday in Colombia.
James, of the Running Brave Athletics Club clocked a time of 47.79s to claim the third spot in the finals of the men's 400 metres after running a time of 48.53s in his heat last Friday.
Stabroek Sport spoke to his coachJulian Edmonds: "Well it's good to see that the stage of training he is at, his preparation has enabled him to run so close to his personal best time…so it's only the signs of things to come."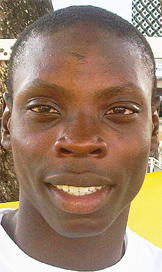 Stabroek Sport also caught up with James's mother Sharon Austin and asked her how she felt about her son bringing home the first junior international medal for the year.
"Well I'm so proud of my son. I think it's good with what he did and I know that in time to come he will bring first," Austin said.
However, James had a disappointing end to his 200 meters campaign after clocking a sub-par time of 22.43s for the seventh position in the finals.
According to Austin, his poor showing in the 200 metres was because he had 30 minutes to recover for the 200 metres final after winning the bronze medal in the 400 metres.
James is expected now to turn his attention to the Inter-Guiana Games in Suriname slated to run off from October 20-23.
Around the Web