LONDON, England,  CMC – Darren Sammy hailed West Indies' 25-run victory in the second and final match of their Twenty20 International Series against England on Sunday at The Oval.
The West Indies captain said the victory was a morale boost for his side, following a crushing, 10-wicket defeat in the first T20I two days prior, and puts them in a good frame of mind as the travel onto Asia for tours of Bangladesh and India.
"We needed this," he said. "This would give the guys a lift, and improve on the belief in the team that if we do the basics well, we can get the results in our favour.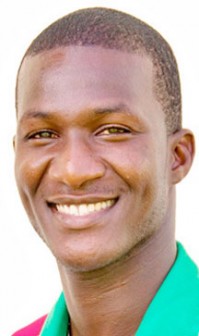 "One of the guys said 'we did not expose their middle in the first match, and if we got one wicket, anything could be possible'. I think once you start well, it gives you confidence."
He added: "Our fielding improved tremendously. We always ask for a wicket from in the field. The work we did on Saturday, it really paid off. "We still need to do some work on our batting. It has been affecting our game. Rotating the strike and stuff like that. We had a lot of dot balls again, but we are a boundary-hitting team, and if we can rotate the strike, it would be a better performance from us."
Sammy also praised left-arm spinner Garey Mathurin, whose three wickets for nine runs in his allotted four overs swung the match decisively for West Indies. "Before we left the dressing room, he told me he would get four wickets, and for just 10 runs," said Sammy.
"He wasn't smiling. He wasn't joking. He was quite serious about what he was saying and he was quite determined to achieve it."
He said: "He didn't get four for 10, but the three for nine at the top of the innings did the job for the team and helped us get a remarkable win. It was a really great start to his international career.
"Under such pressure, to open the bowling and deliver in such a convincing way was truly great to see. . .He is a very confident player. He believes in himself and he always backs his ability."
Most of the players on this trip return to the Caribbean, but Sammy, Samuels, Bishoo, Fidel Edwards, Danza Hyatt and Andre Russell leave on Monday for Dubai, where they will meet up with other players and have a one-week training camp before moving on to Bangladesh for a series of two Test matches, three One-Day Internationals and a T20 International.
Around the Web