Dubai, United Arab Emirates – The Sagicor High Performance Centre continued their outstanding showing on tour with another impressive win yesterday. Playing against UAE at the Dubai Sports City, Sagicor HPC had a big win by 105 runs.
They batted first and made 217 before being bowled out with three balls left. The bowlers then went to work and dismissed the home side for just 112, to win by 105 runs.
It was their third victory in as many matches following wins over UAE Blues (by 23 runs) and Afghanistan (by 56 runs) in T20 matches last weekend.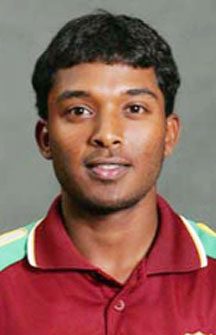 Yesterday, in the Sagicor HPC innings, opener Kyle Corbin made a top score of 57 and gave the innings a solid start, while wicket-keeper Devon Thomas hit a breezy 35 in the middle overs. At one stage they slipped to 165-7, but some smart batting from left-hander Keron Cottoy (29 not out) kept the innings moving.
In the bowling department, pacer Kevin McClean (3-19) bowled with pace to make early inroads while left-arm spinner Veerasammy Permaul continued to show his development with 3-29. Jason Holder chipped in with 2-20 as he got the ball to swing.
Sagicor HPC will have their next tour match against the West Indies team, who arrived in Dubai yesterday  morning for a one-week camp before heading to Bangladesh.
Coach of the Sagicor HPC, Andre Coley, said his young players are eagerly looking forward to the match tomorrow Thursday.
"We have been playing some good cricket, doing some very good things, here in Dubai so far in all three matches and the results show that. It is good to see the boys doing well in foreign conditions and learning with every match. There are some areas we need to brush up on and get better at.
"Today we faced most of the overs against their (UAE) spinners and we were made to dig deep on a turning pitch and we saw some fight from the team," said Coley, a former Jamaica wicket-keeper.
"The upcoming match against the West Indies team will be a good test for the players. We will get a good idea of where we are and how we are developing as individual players and as a team. It will be a good contest and a good experience."
Coley added: "We have been seeing some good signs here on this tour and the players are getting reward for the work they have been putting in.
They have been together for two years now and have been playing good team-cricket and we are looking to continue in that same direction."
First ball is 10 am (2 am Eastern Caribbean Time/1 am Jamaica Time).
Sagicor HPC Squad: Brandon Bess, Nkrumah Bonner, Shamarh Brooks, Rajendra Chandrika, Kyle Corbin, Keron Cottoy, Andre Creary, Shane Dowrich, Jason Holder, Delorn Johnson Kevin McClean, Veerasammy Permaul, Kieran Powell, Devon Thomas
SAGICOR HPC UPCOMING MATCHES
September 29: 50 -over v West
Indies
October 1: 50      -over v
Afghanistan
October 2: 50      -over v UAE
Blues
Around the Web