National junior 400 metres athlete Stephan James has  again etched his name in the annals of sports in his homeland when he competed at the recently-concluded South American Junior Championships in Colombia.
James, who became the first junior sprinter from Guyana to reach a sprint final but failed to medal at the Pan American Junior Championships earlier in the year, ensured that he secured a medal this time around, picking up the  bronze.
In the process James became the only male junior athlete to ever medal at the prestigious event while becoming only the second athlete to accomplish the feat.
Former national female sprinter Dianne Munroe was the first athlete to accomplish the feat when she  gained a bronze medal in the females' 100 metres in 2003.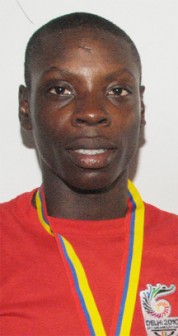 "Well for the first set of experiences internationally it feels good to win a medal. It won't be my last medal that I get…it's just the first to start my collection," James told Stabroek Sport in an interview yesterday.
James has seemingly matured as he ran his 400 metres rounds better than his previous two outings at the Carifta and Pan American Junior Games earlier in the year. The 400 metres specialist in his previous two outings ran his heats at blistering times but failed to duplicate or better the times in the final.
However, this was not the case at the South American Championships as he cruised to 48.58s in his heats before clocking 47.7s in the final to pick up the bronze medal.
While James is not known as a specialist in the 200 metres, he did manage to reach the final of the event  but finished seventh.
"First thing it was cold and I wasn't getting warm easily, the air over there is very thin as well because I jogged for about 10 metres and was breathing hard. I had limited time to rest between my 200 and 400 metres and had to run the 200 metres final in pouring rain which was very cold," James told Stabroek Sport, recalling his experience at the prestigious event.
The 18-year-old has now set his sights on the Inter-Guiana Games (IGG) next month in Suriname and expressed confidence in himself and the national squad that will attend the Tri-Nation event among Guyana, Suriname and French Guiana.
"I just want to go out there and do my best because I wasn't pleased with the times I did at the South American Games, although Suriname will be a grass track I still intend to run fast. I also have high hopes of us (Guyana) going out there to win as a team," James stated.
Meanwhile James indicated that he will close his competitive season after the National Schools Champion-ships which is scheduled for November.
Around the Web