DUBAI, United Arab Emirates, CMC – Marlon Samuels has been cleared to bowl again in international matches more than three years after he was banned for an illegal bowling action.
The International Cricket Council, the sport's World governing body, said yesterday that the West Indies batsman, who also peddles uncomplicated off-spin, was cleared following significant remedial work, and an independent test in Perth, Australia. "It feels really good to know that I can bowl again in international matches," said Samuels. "I have been waiting for this moment for a while now.  "I am mainly a batsman in the team, but it feels good to know that I can again contribute to the team in another area – with the ball. I am the kind of player who likes to be always involved in the game so this is great news for me and for the team."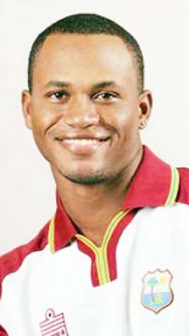 The 30-year-old Samuals was reported by umpires Aleem Dar and Simon Taufel following the third Test between South Africa and West Indies from January 8 to 10, 2008, in Durban.
Samuels has also endured a two-year ban for links with an alleged Indian bookie during that time before making a return to the game last year.
He is presently in Dubai with the West Indies team on a one-week training camp as they prepare for their upcoming tour of Bangladesh.
Samuels praised the help and advice he received from former Jamaica and West Indies captain Jimmy Adams and current West Indies coach Ottis Gibson.
"I really want to thank Jimmy for working with me in the nets and helping me through this process," he said.
"After I came back into the West Indies set-up, Ottis continued the work from where Jimmy left off, and helped me to get the positive result for which I was aiming."
He said: "I have been spending a lot of time doing a lot of bowling in the nets so that I could get my body accustomed to the work, and that anytime the captain calls on me, in any of the three formats of the game, I will be ready."
Samuels' latest independent analysis was performed by Professor Bruce Elliott, member of the ICC Panel of Human Movement Specialists, and his team at the School of Sport Science, Exercise and Health, University of Western Australia on September 14.
"It is important to point out that under this process, as with all bowlers, Samuels' action will continue to be scrutinised by match officials to ensure it remains legal," said an ICC media release.
Samuels has so far taken seven wickets in 32 Tests and 57 wickets in 117 One-Day Internationals for West Indies.
Around the Web