DUBAI, United Arab Emirates, CMC – Kevin McClean cruelly exposed the batting limitations of the current West Indies team, jolting them with an inspiring spell of fast-medium bowling to lead the West Indies High Performance Centre to a six-wicket victory in a One-day practice match yesterday.
Gaining appreciable bounce and movement from the pitch, McClean collected five wickets for 19 runs from seven overs and fellow fast-medium bowler Delorn Johnson grabbed three for 17 from eight overs, as no West Indies batsman reached 20 and the side about to visit Bangladesh were dismissed for 73 in 30.2 overs at the Global Cricket Academy ground.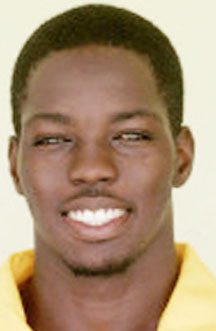 The HPC ran into some stiff problems too, but they earned bragging rights for the remainder of the week over the senior team, after they reached their target with 171 balls remaining for their fourth consecutive win in the emirates.
After the match, McClean said his effort in 40-degree Celsius heat proved he is fully recovered from a series of set-backs, including a career-threatening ankle injury.
"It was a 'fresh' pitch, so I knew once I got the ball in the right areas there would be something in it for me," he said.
"I anticipated there would be plenty of 'carry', so I ran in, hit the pitch hard, and got the results. It was a pleasing performance for me."
He added: "I got roughed up in the first Twenty20 match against the United Arab Emirates Blues, so I knew I had something to prove against the West Indies. I didn't want to let the side down.
"It was very tough bowling out there. I had to make sure I conserved energy and look to execute my game plan. The aim was to build blocks of dot balls and then produce that 'effort' ball. It worked and my game is progressing well on this tour."
Johnson removed opener Kieran Powell caught in the slips for a second-ball duck in the first over and Marlon Samuels lbw for one in the fifth over, leaving West Indies six for two.
But McClean undermined the West Indies' batting with four wickets in his opening spell, removing newcomer Carlos Brathwaite for seven, Shane Dowrich for two, West Indies captain Darren Sammy for three, and Andre Russell for one, as the seniors declined to 36 for seven in the 14th over.
Kemar Roach with the top score of 12 and Christopher Barnwell with 11 ensured the West Indies passed 50.
The HPC were 11 for two in the second over, after Roach bowled Rajindra Chandrika for a first-ball duck and Devon Thomas was run out for 11.
Andre Creary and Nkrumah Bonner moved things forward before Andre Russell and Devendra Bishoo removed them for 11 and 17 respectively, leaving Jason Holder with 19 not out and Shamarh Brooks with 11 not out to limp the HPC over the line.
West Indies are spending a week in Dubai preparing for their tour of Bangladesh, starting on October 4, and the HPC is on a development tour, where they are playing in the Carib-Asian tournament with Afghanistan and the hosts.
Scoreboard
WEST INDIES (maximum 50 overs)
K. Powell c Bonner b Johnson                                        0
D. Hyatt lbw b Permaul                                                    11
M. Samuels lbw b Johnson                                               1
C. Brathwaite c Cottoy b McClean                                 7
+S. Dowrich c Bonner b McClean                                   2
*D. Sammy c Chandrika b McClean                              3
A. Russell lbw b McClean                                                  1
C. Barnwell c wkpr Thomas b Johnson                       11
K. Roach c Johnson b Holder                                         12
D. Bishoo c wkpr Thomas b McClean                             7
A. Martin not out                                                                   2
Extras (lb5, w11)                                                                   16
TOTAL (all out, 30.2 overs)                                         73
Fall of wickets: 1-0, 2-6, 3-27, 4-32, 5-34, 6-36, 7-36, 8-51, 9-65
Bowling: Johnson 8-1-17-3 (w3); Holder 7.2-2-15-1 (w4); Permaul 8-2-17-1 (w3); McClean 7-3-19-5 (w1)
WEST INDIES HIGH PERFORMANCE CENTRE (target: 74 off 50 overs)
R. Chandrika b Roach                                                            0
A. Creary c Martin b Russell                                             11
+D. Thomas run out (Hyatt)                                             11
N. Bonner lbw b Bishoo                                                      17
*S. Brooks not out                                                                 11
J. Holder not out                                                                    19
Extras (b4, w1)                                                                          5
TOTAL (4 wkts, 21.3 overs)                                          74
K. Corbin, K. Cottoy, V. Permaul, K. McClean, D. Johnson did not bat
Fall of wickets: 1-0, 2-11, 3-39, 4-52
Bowling: Roach 5-1-11-1; *Sammy 6-1-18-0; Russell 4-1-10-1 (w1); Bishoo 3.5-0-18-1; Martin 2-0-7-0; Samuels 0.3-0-6-0
Result: West Indies HPC won by six wickets (171 balls remaining)
Around the Web