Trenace Lowe captured first place in the under-21 and women's singles at the Tobago Open last weekend. Lowe, who returned yesterday, said she was proud of her performance in the competition last weekend.
In the finals Lowe played Catherine Spicer in the women's singles and Ashley Quashie in the girls under-21, securing a 3-0 victory against the two.
Against Spicer the scores were 13-11, 11-9 and 11-8 and Quashie 13-11, 11-7 and 11-4. A trophy was awarded for the under-21 and a monetary prize for the women's singles.
The current number one female player said she did not view any of the girls with the exception of Aleena Edwards as a challenge. She fought hard against Edwards in the semi-finals to secure a place in the finals.
The tournament, she said, was not one that was sanctioned by the Guyana Table Tennis Association (GTTA), but invitations were sent to various players.
She along with Idi Lewis and Hughley Griffith accepted. Griffith and Lewis both lost their title bids.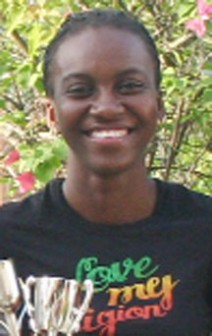 Lowe said that such tournaments are important for players. "Like now after Caribbean (Caribbean Championships) is good to keep playing these small tournaments because you keep yourself active."
These tournaments also help players to prepare for major competitions and also give players a chance to stay at the top of the competition. That she said is something that is always on her mind as she prepares for the national championships in December.
She said that Michelle John, Jody-Ann Blake and Natalie Cummings are all expected for the national championships. The three, she said, are her main competitors and they are not walk-overs. The three, she added are in constant training.
Lowe also stated that all the competitions are in preparation for the Olympics next year, but she must first qualify.
The Latin American and World Championships, she said, are the two major tournaments that allow a player the chance to experience the level of competition they can expect at the Olympics.
Prior to the national championships, Lowe said, there is the Baltimore Open followed by the Trinidad Super Singles, and she intends to  participate in both.
Around the Web