DUBAI, United Arab Emirates, CMC – Devon Thomas stroked a sparkling half-century but narrowly missed out on a century while captain Darren Sammy, Marlon Samuels and Chris Barnwell also flourished with the bat, as West Indies crushed United Arab Emirates by 245 runs in their Carib-Asian one-day match here yesterday.
Thomas, who toured with the Windies to the World Cup earlier this year, pummeled 88 off 77 balls to help power his side to 315 all out off 49.5 overs at the ICC Global Cricket Academy.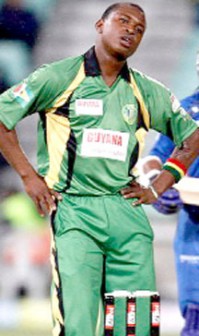 Barnwell gathered a whirlwind 54 from a mere 21 balls, Samuels got 53 from 69 balls while Sammy raced to 51 off 49 deliveries, as West Indies raised an imposing total after opting to bat first.
Speedster Kemar Roach (3-13), off-spinner Samuels (3-13) and leg-spinner Devendra Bishoo (3-22) then both snared three wickets apiece to send the hosts tumbling for a paltry 70 off 38.1 overs.
West Indies lost early wickets when Kieran Powell (2) and Danza Hyatt (7) fell in quick succession to leave the tourists on 10 for two.
However, Thomas and Samuels combined to add 138 for the third wicket, and repair the damage.
Thomas stroked five fours and three sixes in an up tempo innings while Samuels was more sedate in acquiring his runs, counting five fours and a six.
Three wickets tumbled for 14 runs as the Windies stumbled to 162 for five but Sammy and all-rounder Andre Russell (32) patched up the innings with a stand of 76 for the sixth wicket.
Sammy hit two fours and three sixes, paving the way for Barnwell's amazing stroke-play which saw him spank two fours and six sixes, as the innings  finished on a high note.
In reply, UAE had no answer to the Windies varied attack and only Amjad Ali with 24 showed any mettle.
SCOREBOARD UAE vs West Indies
WEST INDIES
K Powell lbw b Sarwar                                   2
D Hyatt c Arshad b Javed                            7
M Samuels c Amjad b Sarwar                   53
+D Thomas c sub (Rehman) b Raza       88
C Brathwaite lbw b Arshad                          2
*D Sammy c Raza b Shetty                         51
A Russell c Amjad b Shetty                       32
C Barnwell c Raza b Javed                          54
K Roach run out                                               8
D Bishoo b Javed                                             7
A Martin not out                                              0
Extras (lb3, w8)                                            11
TOTAL (all out; 49.5 overs)                315
Fall of wickets: 1-10, 2-10, 3-148, 4-161, 5-162, 6-238, 7-253, 8-268, 9-311, 10-315.
Bowling: Amjad Javed 7.5-1-30-3, Shoaib Sarwar 7-0-48-2, Shadeep Silva 7-0-51-0, Asadullah Shareef 3-0-29-0, Ahmed Raza 10-0-74-1, Arshad Ali 10-0-44-1, Vikrant Shetty 5-0-36-2.
UAE
Bakhtiyar Palekar c Bishoo b Roach                 6
Arshad Ali c Samuels b Roach                            3
Ramveera Rai c Sammy b Roach                       4
+Amjad Ali b Samuels                                         24
Vikrant Shetty c Sammy b Brathwaite             5
Shaimon Anwer lbw b Bishoo                             6
Amjad Javed b Samuels                                       11
Ahmed Raza c Powell b Bishoo                          3
Shadeep Silva not out                                             3
Shoaib Sarwar lbw b Bishoo                                  0
Asadullah Shareef c wkp Thomas b Samuels  2
Extras (b2, w1)                                                            3
TOTAL (all out, 38.1 overs)                                  70
Fall of wickets: 1-8, 2-13, 3-14, 4-24, 5-45, 6-59, 7-64, 8-64, 9-64, 10-70.
Bowling: Roach 5-0-13-3, Martin 7-2-12-0, Brathwaite 8-3-8-1, Bishoo 10-2-22-3, Samuels 8.1-2-13-3
Result: West Indies won by 245 runs.
Man-of-the-Match: Marlon Samuels
Toss: West Indies
Umpires: Razzak Shah, Tanvir Mehpi.
Around the Web