By Emmerson Campbell
John 'Big John' Edwards lifted his way to a bronze medal winning performance yesterday at the 28th World Masters Power lifting Championships in St Catherine, Canada.
Edwards, who competed in the 120kgs/265lbs M1 weight class and was ranked number seven entering the championships, lifted a total of 845kgs/1859lbs.
He squatted 332.5kgs/731lbs, bench pressed 220kgs/484lbs and dead lifted 292.5kgs/643.5lbs.
Edwards successfully performed five lifts out of a possible nine, one of three squats, two out of three bench presses and two out of three dead lifts.
In an interview with Stabroek Sports,president of the Guyana Amateur Power lifting Federation (GAPF), Peter green praised Edwards's efforts. "Big John did very well in winning third place. "The lifters he competed against are extremely strong and seasoned. To win a bronze medal at the World championships speaks for itself about the strides power lifting has made since 2008," said Green.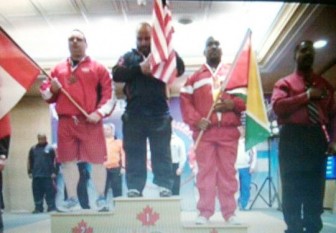 He added:"There is no doubt that John has been Guyana's most decorated power lifter since 2008."
Green also said that Edwards's bronze medal performance is his first defeat at the international stage since 2008 as he has been unbeaten since then.
Edwards was runner up to Canada's Francis Rousseau who placed second and gold medal winner Michael Mastrean of the USA.
Edwards is the current Open and Masters M1 category champion.
He is also the 2008 IPF/NAPF Regional Gold Medalist (2) – Open and Masters M1 2009 IPF/NAPF Caribbean Gold Medalist (2) – Open and Masters M1 2009 IPF Pan American Gold Medalist (2) – Open and Masters M1 2010 IPF / NAPF Caribbean Gold Medalist (2) – Open and Masters M1 2011 IPF /NAPF Caribbean Gold Medalist (2) – Open and Masters M1.
Meanwhile, Winston 'Little Master' Stoby, who was supposed to compete at the championships and was the favourite in the 74kgs/163lbs weight class was unable to attend because of visa problems.
Stoby, who is the 2010 Caribbean and CAC Open and NAPF Regional gold medalist in the 74kg/163lb category, was a shoo in for the gold medal according to the weights he normally lifts. The winner of that category lifted 30kgs less than what Stoby does. Green yesterday stressed his disappointment over  Stoby s absence.
"Winston and I are still waiting for our Canadian visas in Trinidad since September 5. In Stoby's case Guyana would have gotten a world champion because the winner lifted about 30 kilogrammes less than what Winston would have done.
"I'm extremely disappointed in the tardiness of the Canadian embassy and the way they treated the situation," said Green.
Green said nevertheless Guyana will have to be satisfied with Edwards's bronze medal winning performance at the world level Edwards was accompanied by his wife Malini Permanand-Edwards who also served as his coach and manager. The championships, which commenced on September 26, will conclude on October 4.
Edwards is scheduled to return to Guyana on October 16.
Around the Web