By Iva Wharton
The Guyana Hockey Board (GHB) has increased its pool of certified coaches.
Friday evening, 18 coaches received certificates for their participation in an Olympic Solidarity Coaching course which was conducted by international hockey coach Shiv Jagday.
The five-day programme started last Monday.
According to Jagday, the coaches now are more knowledgeable, motivated and well equipped to deal with their charges.
He also encouraged the GHB to explore the opportunity of securing scholarships for players, especially females.
For some of the participants, this programme was not new, but it was for Vaneisha Bourne.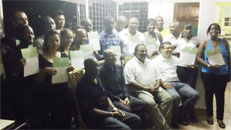 "It was beneficial in that it gave me the skills and the ability to transfer that to the students when I have to go and coach at the school and also me as a player, it helps me develop with the basic skills and learning different aspects of the game," she stated.
Bourne said that she was enthusiastic about working with the student, as she has a wealth of knowledge to share with them. She has not been assigned to a school, but said it would probably be Mae's or St. Stanislaus College.
Secretary of the GHB, Gregory Sills, said there was   still an urgent need for more coaches. Apart from the 18 coaches, there are another five coaches who were not a part of the programme.
"What we are trying to do is really restart the development of hockey, we have been able to get some equipment and we are offered some equipment at reasonable prices which should help us to get the hockey started in schools," said Sills.
He said that even though the schools' programme has commenced it needs to be expanded. The board is currently working with five schools. "We are actually thinking of going to West Demerara and Linden," Sills said adding that that was  dependent on their ability to attract new coaches.
President of the GHB, Philip Fernandes, said that the programme was a success as Jagday has been able to impart a lot of knowledge to the coaches and has also managed to instill confidence in the coaches. "They have shown marked improvements in their understanding and analysis of the game, it was a worthwhile programme.  According to him, Guyana is at a critical juncture as it has lost some of its better players to migration. But, Fernandes said, there is still hope for the future. That hope he said hangs on the hinges of a successful schools programme.
Fernandes also reiterated his call for an artificial surface, which he said was important for the development of the sport.
Around the Web