Guyana's national football team the "Golden Jaguars" continued its preparation for the 2014 World-Cup qualifying away legs against Barbados and Bermuda on Friday and next Tuesday with an intense practice session at the Enmore Community Center Ground, yesterday.
Guyana, who defeated both teams 2-0 and 2-1 in September at the Providence Stadium, currently leads Group B on a slight goal-difference advantage over Trinidad.
For the Barbados clash on Friday, the team will be without influential striker Gregory "Jackie Chan" Richardson and defender John Paul Rodrigues who both play in the North American Soccer League. But the Guyana management hopes they will be available for the Bermuda encounter.
However, Shawn "Bubbly" Beveny who plays for Caledonia AIA in the Trinidad and Tobago professional League, will link up with the team in Barbados while Howard Newton, brother of Jake Newton who didn't play in the home matches is set to return to the squad
Speaking to Stabroek Sport, assistant coach Wayne Dover said:"Although we don't have a football league at the moment, we have been keeping the local players prepared the best way possible by having regular fitness exercises and tactical work over the past 2-3 weeks", said Dover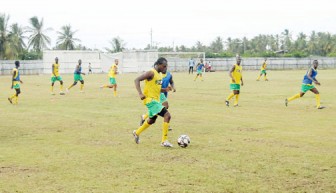 Asked whether he had any knowledge of the venues in Barbados or in Bermuda Dover said: "We are aware of the venue in Barbados since the national under-23 side played there before – but unfortunately, we don't have any knowledge of the turf in Bermuda which is not ideal in modern day football where such information is essential. Word is though, the grounds are good in Bermuda but if that is true, that could possible argue well for us, given that our style of football where we play a crisp passing game could benefit in such conditions. But given these unknowns I am simply cautiously optimistic about our chances and won't be giving any prediction of what we may do in those countries," Dover said.
Of the new foreign players in Leon Cort, Ryan Shakes and Alaniano Mounter, defender Cort is the arguably the most significant addition, having the distinction of English Premier League experience playing for Stoke City during the 2008/09 season with Trinidad star striker Kenwyn Jones.
Cort, whose elder brother Carl Cort played for the England Under-21 side in 1997/98, spoke to Stabroek Sport and disclosed his pleasure at finally being able to play for Guyana.
"I always knew over the years that interest was here for me to come and play for Guyana, but I had to sort out the situation to get clearance to come with my current club and now that I have got, I jumped at the opportunity to play for my mother country, since it's a great opportunity to play international football, something I couldn't do in England," said Cort
He said that he was impressed with the mentality of the Guyana players and tactical reasoning of Coach Jamaal Shabazz in his first training session with them, categorizing the players as "hungry" and Shabazz as "knowledgeable" about football.
"As time goes on I hope to impact my knowledge on playing at a higher of football to the guys no doubt, but I'm sure there will be times  when they can help me – I am not accustomed to this heat in Guyana, so that will take some time getting used," Cort said.
Acting Guyana Football Federation (GFF) President Franklin Wilson, who was also at the training session, said that the addition of the foreign players makes this one of the strongest national football teams, put together in a while and said he wished to thank the government along with corporate sponsors such as Bakewell, Guyana Telephone and Telegraph (GT&T), Banks DIH, Roti Hut, Humphreys Bakery, Food for the Poor and the Kashif and Shanghai organization for their continued support of the national team.
The national team has a lunch gathering at the Roti Hut today along with another training session at a venue yet to be decided before they depart for Barbados tomorrow afternoon.
Around the Web