Fairy Landing of the Mohammed Shariff Stable won the feature E and Lower horse race when Rising Sun Turf Club, in collaboration with the True Friendship Society, held its fundraising meet at the RSTC facility, West Coast Berbice, on Sunday.
It was an action packed day of racing that saw nearly  65 horses competing in eight races for over $5.2M in prize monies, trophies and other memorabilia.
Fairy Landing was out of the gates fast but Marathon Man and Majestic were on his tail.
However, on the turn for the homestretch Fairy Landing galloped away from the field in the 1400m event to take the $500,000 winning purse and the Banks DIH trophy. Marathon Man, Majestic and The Bailiff finished second, third and fourth respectively.
Swinging Easy, ridden by Jamaican Brian Blake of the Shariff Stable, won easily against the rest of the field with a gate-to-pole run in the co-feature race for the Guyana and West Indies bred three-year-olds. It rode away with the $400,000 prize and the Citizens Bank and Neal and Massey Guyana Limited trophies in the 1300m.
The horse beat stable mate Domasaca Dream into second while Captain Crook and Work Force were third and fourth respectively.
Serenity, mounted by the experienced Yap Drepaul, added another victory in the two-year-old race for Guyana and West Indies bred horses ahead of Settle in Seattle, Red Cloud and Happy Choice. That event was sponsored by Ansa Mc Al Guyana Limited and BK International and the win was worth $300,000.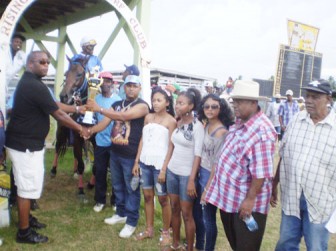 Face the Music of the Elcock Stable was also in winners' row in the G Class event to take the $220,000 and the Hand-In-Hand and Sterling Products trophy from Zelona, Miracle Run and Prado's Gold.
Little Tip Top, which was ridden by Jamaican Andron Findley, won the Demerara Distillers Limited (DDL) and Nauth Construction Company-sponsored Guyana bred Maiden Two-year-old race from Sonia Door. The win was worth $100,000.
Royal Salute, also ridden by Drepaul, crossed the line ahead of stable mate Dream Girl in the H and Lower 1300m to cart off $200,000, beating out Pixie Fire and Prospector's Pride that came in third and fourth respectively.
The John Fernandes and New GPC sponsored I Class 1300m race was won by Infinity of the Nacimento Stable to beat Royal Salute, Royal Time and Natural Mystic for the $180,000  top prize. Kevin won the Digicel sponsored I-3 and Lower and the $160,000 winner's money from Pleasant Surprise.
Drepaul was adjudged Best Jockey, while Glendon Sooklall from the Shariff Racing Stable was adjudged Best Trainer. The Shariff Racing Stable walked away with the Best Stable prize, receiving trophies from Trophy Stall, Bourda Market, and the organisers.
Around the Web