Chris Williams was phenomenal as he led Victory Valley Royals to the next round of the Mackeson Smooth Moves 3-on-3 Basketball Tournament last Sunday evening at the newly-refurbished Mackenzie Sports Club Basketball Court, Linden.
Team Ghetto was the second team to make it past the first round of the inaugural event which commenced in Linden with Marketing Manager Troy CadoAgan from Ansa McAl giving his remarks.
"When we came up with this idea to have this competition and wanted a place to launch it, Linden was the first place that came to mind because this place has been without basketball for close to a year because of not having a facility and I know that the players would've been enthusiastic about playing," Cadogan stated.
However, despite the late start due to early afternoon showers, Williams was `lights out' from around the perimeter during the game.
His silky smooth jump shot proved to be the most deadly weapon in his arsenal as he sank most of his shots during the course of the night.
Meanwhile, Ghetto had to battle with Kingsway in a free throw shoot out after tying on two points at the end the first round. The rest is now history.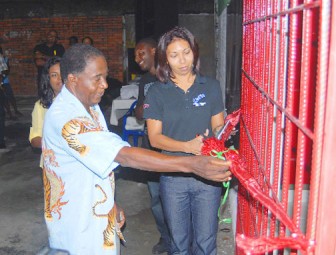 Kingsway, who on paper was a definite favourite to win with the likes of national players Marvin Hartman, Jason Alonzo, Omally Sampson and 2011 CBC team representative Neil Marks, lost their opening match to Constabulary in a sudden death free throw shoot out after the score was locked on 16 at the end of regulation time. They eventually bowed out of the competition after losing to Ghetto in a free throw shoot out.
Team Smooth was never in the lineup to advance as they won one game while losing three at the opening event.
Prior to the start of the basketball tournament, Ansa McAl threw their weight behind the sport of basketball again by handing over the new James Brusche players dressing room to the Mackenzie Sports Club management.
Leon Barrett, vice president of the Mackenzie Sports Club (MSG) gave a vote of thanks on behalf of the MSG management while Public Relations Officer (PRO) for Ansa McAl, Darshanie Yussuf pledged Ansa MacAl's support behind the development of basketball.
Results:
Victory Valley Royals 15 – Ghetto 11, Constabulary 17 – Kingsway 16, Team Smooth 9 – VV Royals 11, Ghetto 13 – Constabulary 10, Kingsway 7 – Team Smooth 5, VV Royals 15 – Constabulary 18, Ghetto 10 – Kingsway 14, Team Smooth 16 – Constabulary 12, Kingsway 11- VV Royals 13, Ghetto 10 – Team Smooth 8.
Around the Web