By Iva Wharton
"It's really enjoyable because my grandparents and mother were born here so it's an honour to come back and play for the national team. It's nothing but joy and excitement really."
Those were the words of 32-year-old English-based defender Leon Cort as he spoke of what it means to be a part of the Golden Jaguars team on its quest to qualify for the 2014 World Cup.
In an interview with Staborek Sport yesterday, Cort, who plays professionally for Charlton Athletics in England, said this was
his first stint playing for Guyana and it would not be his last. This is Cort's second visit to Guyana – his first being in 1994 at the age of 15.
What prevented him from coming to these shores before, Cort said, was his work commitment.
Now that he has been drafted in the squad, he is not sure how often he will be in Guyana, as he is not aware of what his game situation would be back in England. The premier league, he said, runs for nine months starting in August.
"Obviously it's really far and then my work back home doesn't allow me to get to this side of the world very often, but when I am called up hopefully I can make it out."
Cort, whose father is Jamaican, said he was never interested in playing for the island, because of the bad experiences he was privy to from English players of Jamaican descent like himself.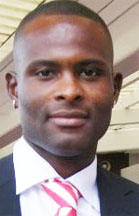 Cort's professional career started at age 18 when he signed with Millwall after which he played for eight other teams: Forest Green Rovers, Stevenage Borough, Southend United, Hull City, Crystal Palace, Stoke City, Preston North End and Burnley.
Leon is the younger brother of Carl Cort, who also plays professional football. His brother, he said, should have made the trip with him, but was unable to. Hopefully, he said, he will be here in November when they play in Trinidad, he said.
According to him, playing football in Guyana is not much of challenge even though there is some difference. Back home in England the game is played at a faster pace because of the climate as against a slower pace in Guyana, but he said he can adapt.
"Obviously when you go to South America the climate is a lot warmer, you have to be more patient, have to use your brain a lot more in conserving energy. But with my experience I can adapt but a younger player might not be able to do that."
Speaking on his ability to relate to his new teammates, Cort said since meeting the players on and off the field he feels comfortable around them. "They're approachable, friendly and I want to do well."
He is also hoping that there will be greater cohesion on the field when the game starts as it is his belief that the difference in training can only add to gelling on the field.
"I am hoping that everyone can use their own personal experiences and bring it for the team because I believe this team can get out of this group. I know that Guyana had some problems with qualifying before, but I think things have started to change. Times are changing [and] they are moving in the right direction and you can see that just by looking at what they have achieved so far."
Asked what his expectations are, Cort said it's to qualify from this group, adding it is a challenge since the two games are expected to be difficult. He indicated that the group in November would be even harder.
Cort does not have time on his side but is confident that he has a few more years in the sport, which is dependent on how he guards his health.
"I feel really fit at the moment and I feel that I can go on a few more years from now."
Around the Web