The Golden Jaguars received a $300,000 financial boost from Presidential Adviser on Empowerment Odinga Lumumba yesterday before the team's practice session at the Guyana National Stadium.
This incentive, according to Lumumba who is also the president of  Alpha United Football Club, is an extra push for the team to win since it was promised by the Government of Guyana that each member will receive house lots if they win the group.
The team, which defeated Barbados and Bermuda in Group B 2-0 and 2-1 respectively at home in September at the Providence Stadium, currently are ahead of Trinidad and Tobago on goal difference.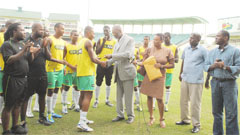 The Golden Jaguars team, according to acting president of the Guyana Football Federation (GFF) Franklin Wilson, will play Barbados on Friday in Barbados and Bermuda next Tuesday in Bermuda.
The donation yesterday was a fulfillment of a promise that was made by Lumumba, with head coach of the team Jamaal Shabazz labeling the event as "a politician in the election season giving their word and keeping it."
Shabazz also noted that Lumumba's donation is a timely incentive especially since Guyana is "well poised in Group B". The Trinidadian indicated that the contribution will go a long way.
Apart from that, the occasion saw England-based players Ricky Shakes, Leon Cort and Alinani Mounter receiving Guyana passports. Lumumba thanked the Home Affairs Minister Clement Rohee for his support also.
Around the Web