The Guyana Police Force (GPF) leads the point's standings after the first day of the Joint Services track and field championships was completed yesterday at the Guyana Defence Force (GDF) ground at Camp Ayanganna.
The day's proceedings included the men's and women's 100 metre heats; long jump finals, discus finals along with the women's 3000 metre final.
After winning the women's long jump, the men's discus and sweeping the top three positions in the women's discus, the GPF athletes are ahead of their rivals.
The policemen and women have so far tallied 102 points followed by GDF with 88 points; Guyana Fire Service with 23 points and the Guyana Prison Service (GPS) in the cellar on a meagre seven points.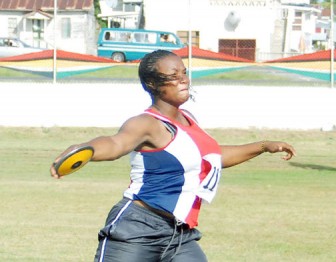 Latoya Rodney led a GPF sweep in the women's  discus with a winning throw of 27.68m followed by Joan King Browne with 26.10m and Dionne Ferguson 25.66m.
Ronald Payne was not to be outdone by his female teammates as he recorded the furthest throw in the men's discus. Payne's throw of 39.29m was good enough to edge out GDF's Troy Lewis and his teammate Michael Pollydore.  Lewis' throw was 39.15m while Pollydore's throw was 36.73m.
GPF's Natasha Alder jumped her way to victory in the women's long jump ahead of GDF's Rushell Coates and her teammate Tenisha Punch. Alder's winning jump was measured at 5.26m while Coates' and Punch's were measured at 5.20m and 5.16m respectively.
Patrick King of GDF won the men's long jump with a leap of 6.84m ahead of GFS' Ryan Scott 6.70m and GPF's Troy Williams 6.62m.
The women's 3000 metres was won by GDF's Ashanti Scott followed by Janella Jonas and Eva Henry, both of GPF.
Meanwhile in the sprints, in heat one of the men's 100 metres race, GDF's Rupert Perry recorded a time of 10.20 seconds to earn a place in Friday's final. Perry crossed the finish line ahead of teammate Jermaine Newton and GPF's Keith Roberts respectively.
Quincy Clarke won heat two in a time of 10.30 seconds ahead of GPF's Winston George and GFS' Alton Seaforth respectively.
In the women's 100 metre heats, Nadine Rodrigues won heat one in a time of 12.2 seconds while heat two was won by Tiffany Smith in 12.5 seconds.
Track and field action continues today at 10:30 hrs with the triple jump finals, shot putt, the 4 x 100 metre ranks relay finals and the 200 and 800 metre heats.
Around the Web