The Athletics Association of Guyana's (AAG) female Athlete of the Year, Natasha Alder and her teammate Michael Sinclair rewrote the history books of the Joint Services Championships when the event's second day concluded yesterday at the Guyana Defence Force (GDF) Ground, Camp Ayanganna.
Alder, who won the long jump on day one and competes for the Guyana Police Force (GPF), leapt  to a new championship record of 10.75 metres in the triple jump females, erasing the old record of 10.61 metres.
"I'm very pleased with my performance due to the fact that I have an ankle sprain, so I didn't want to push it because I still have the javelin to complete on Friday, so it was a good win for me," Alder told Stabroek Sport.
GPF's Cindy Fraser and Tenisha Punch had jumps of 9.97m and 9.66m for second and third respectively.
Sinclair of the GPF, who was competing for the first time at the Joint Services Championships, upstaged his teammate and seasoned campaigner Ronald Payne to break the championship record in the men's shot putt.
Sinclair threw 13.97m eclipsing the old record of 12.19m to become the new record holder.
Payne threw 13.05m for second place while Julio Pollydore ensured that the GPF swept the event with a throw of 12.67m for the third position.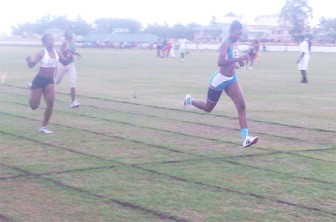 "Well I trained hard every day for this event for about a month and I got a lot of tips from my coach (Lyndon Wilson)… I also did my own research and watched a lot of videos so I could try and adapt the right techniques.
"So for my first outing it really feels good to win because everybody always wants to win," Sinclair told Stabroek Sport.
Meanwhile, the GPF extended their overall lead at the end of the day's events by amassing 220 points while GDF, the Guyana Fire Service (GFS) and the Guyana Prison Service (GPS) trailed with 174, 48 and 21 points respectively. Earlier in the day,  distance king and GDF athlete Cleveland Forde ran away with the men's 5000 metres final, clocking a time of 17:15.6s to leave GPF's Dennis Horatio trailing in his footsteps with a time of 17:58.2s. GDF's Wilbert Mingo took third in 18:18.2s.
The men's triple jump was won by GPF's Troy Williams as his last jump of 13.43m surpassed the then leading jump of GDF's Kareem Aaron with 13.26m. Ryan Scott finished in third with a jump of 13.19m.
Joan King-Brown took the female shot putt with a throw of 9.70m while Stacy Wilson 9.20m and Ashanti Carrington 8.67m took second and third respectively. The 200 metres heats brought the sparse crowd to its feet as GDF's Quincy Clarke outsprinted GPF's Winston George in a time of 21.9s while George clocked 22.0s.
GDF's Rupert Perry looked his usual dominant self as he easily won heat two in a time of 21.5s ahead of his teammate Jermaine Newton who clocked 21.9s.
On the distaff side of the 200 metres, GPF's Nadine Rodrigues clocked 25.6s to win heat one over teammate Akeila Alves who clocked 26.0s for the second position.
Heat two saw GDF's Tiffany Smith making a final surge in the last 50 metres to run away with the top position in a time of 26.1s over GPF's Leoto Bobb who clocked 26.4s. GDF were on their way to capturing both the male and female 4×100 metres ranks relay when the females outdid their opponents to clock 53.9s.
The men who had approximately 15 metres lead on the rest of the field experienced a dilemma when Odellie DeSantos ran out of his takeover zone during the baton exchange between the second and third legs.
Around the Web