Bishops' High School has officially been declared winners of the North Georgetown District swimming championships which was held on Monday last at the Castellani Swimming Pool, Homestretch Avenue.
According to the final points standing, the powerhouse school accumulated 228 points to retain its stronghold on the championships.
Backed by a throng of Guyana's top national swimmers, the school was destined for another year of greatness, and came in ahead of School of the Nations, which ended with 99 points; The Business School, with 71 points and Government Technical Institute, with 64 points.
Other schools managing to put together notable points were St Rose's High School with 36, St Margaret's Primary with 34 points, Marian Academy with 24 points, St Stanislaus College with 21 points and Winfer Garden's Primary with 16 points. Britany van Lange, Athena Gaskin, Accalia Khan, Onika George, Ronaldo Rodrigues and Dylan Nurse were the star performers for BHS. Gaskin, competing in the girls' Open category dominated 50m and 100m freestyle and the 50m breaststroke events.
This year van Lange participated in the girls' under 18 category and she recorded easy wins in the 50m and 100m freestyle and 50m breaststroke events.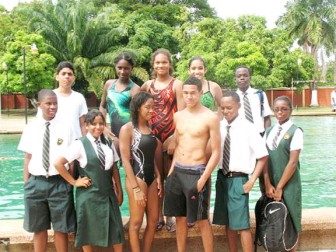 Swimming in the girls' Under-16 category, George secured  wins in the 50m freestyle and butterfly events while young Khan was first in the 50m freestyle and backstroke events in the girls' Under-14 category.
Rodrigues dominated the 50m and 100m freestlye and the 50m breaststroke Under-18 events while Nurse was a force to be reckoned with in the Under-14 category taking first place ahead of schoolmate Shamal Baksh in the freestyle and backstroke events. Nurse also placed second in the boys' Open 50m breaststroke and butterfly events behind GTI's Jaime Jabar. Jabar also won the boys' Open 50m freestyle race.
Nations was able to churn out some credible performances compliments of Steffi DeNobrega and Serrano Gonsalves in the girls' and boys under 18 category, respectively.
DeNobrega gathered first place finishes in the 50m breaststroke and backstroke races and was second in the  50m freestyle race  while Gonsalves won the 50m butterfly and backstroke events.
Soroya Simmons did well for Marian Academy with a win in the girls' Under-16 100m backstroke race and earned  second places in the 50m freestyle and butterfly events.
Bishop's also walked away with wins of both the boys' and girls' open 4x50m relays.
Meanwhile, St Stanislaus College were the unofficial leaders following the field events of the North Georgetown Zone, District 11 Inter-School Championships yesterday at the Guyana Teacher's Union compound, Woolford Avenue.
Official points are still to be tallied, but St. Stanislaus College were the clear leaders followed by Brickdam Secondary School following yesterday's events.
In the long jump event, St Stanislaus College won both the girls' Under-16 shot put and discus events thanks to throws by Khadidja Ba who reached 7.10m and 15.8m respectively in the two events.
In both events Ba was followed by Brickdam Secondary's Shefanni Graham; Graham threw to 5.08m in the shot put and 14.3m in the discus.  St Stanislaus also registered a win of the boys' Under-16 discus, where  Travis Belgrave's 24.7m throw topped the category. Brickdam's Shemar Sampson's 23.15m earned him second place.
In the Under-14 discus throw, St Stanislaus College students rose to occasion copping the first and second places in both divisions.
Natasha Seymour won the girls' discus title with a throw of 19.7m with schoolmate Arianna Mahase, second with 12.9m. Shemar Beaton, produced a best throw of 22.6m, quite a gap away from Randy Oudit's second place 17.3m best throw to win the boys' Open discus.
Around the Web