LONDON,  (Reuters) – Former England fast bowler Graham Dilley has died after a short illness at the age of 52, the England and Wales Cricket Board (ECB) said  yesterday.
Dilley played 41 tests and appeared in 36 one-day internationals for his country, featuring in two Ashes series wins against Australia in 1981 and 1987.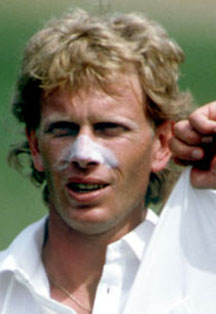 While he was regarded as one of the quickest bowlers of his generation, one of his greatest moments came with the bat when he shared a 117-run partnership with Ian Botham to help England to a thrilling victory over Australia at Headingley in 1981.
After retirement he took on several coaching roles.
"Graham made a life-long contribution to the game of cricket at all levels and we are deeply saddened by the news this morning," ECB chief executive David Collier said in a statement yesterday.
"He will be fondly remembered for his contributions both as a player and a coach.
"Graham inspired many young cricketers through the University programme and was a highly respected coach to our representative teams.
"Few will forget his contribution during the historic Ashes win at Headingley in 1981 and the part he played in two Ashes series victories.
Dilley began his career with county side Kent in 1977 and quickly developed into a potent fast bowler, so much so that he became the youngest cricketer for 30 years to play a test for England when he was picked for the 1979/80 Ashes tour.
He went on to take 138 Test wickets at an average of 29.78, his final match being against Australia in Birmingham in 1989.
Around the Web