President of the Guyana Football Referees Council (GFRC), Alfred King, believes that many football administrators have not accepted that football in Guyana needs urgent remedying.
He said that many persons are coming forward but none of them have been giving "a clear assessment of the current state of football in Guyana".
Speaking during an interview on Wednesday, King hinted that football administration lacks a systematic approach currently, which is not wholly based on the ban of president Colin Klass. He acknowledged that over time the administration of the game has been weakening, resulting "in the game being at a virtual stalemate."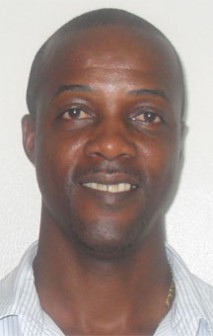 Further, he posited that ever since Klass's suspension by FIFA, for 26 months, there has not been the emergence of prospective leaders to aid football's development. According to King, who is also Permanent Secretary in the Ministry of Culture, Youth and Sport, if the structure were strong and dynamic, administration, locally, would not have been at a "standstill".
The acting president of the Guyana Football Federation (GFF) is Franklin Wilson.
"I was anticipating, after waiting for this length of time, that good sense would prevail to stop all the speculation and rumours and have a special congress [where] people are told of the implications of Mr Klass's suspension for 26 months as it relates to the constitution itself so that we can all agree and plan the way forward," King said. "But we are still waiting for somebody to take that lead role and I am not getting the impression that we are hurry or we are aware that football needs fixing and fixing urgently.
"It is sad that at a time when Guyana is now preparing and doing well, at least at the first round, of qualifying for the World Cup Finals in 2014, our administration of football seems all over the place. In fact, if you look at it closely, I don't know if the present state of football administration is as a result, extensively, of the suspension of Klass."
King also believes that the Georgetown Football Association (GFA) and GFF being locked in legal proceedings is a recipe for no movement administratively to have fresh elections this year, a provision of the GFF Constitution. King indicated that if there should be forward movement there needs to be a compromise where Georgetown is considered to have a say in football in Guyana.
GFA has taken the GFF to court to have its constitutional rights restored. Secondly, King thinks that the court matter has to be removed, paving the way for the overhauling of the prevailing structure.
"Once all of these things are done then someone has to take responsibility of coming up with an action plan to take football forward and beyond the stalemate and court order. Football is not played in the court it should be played on the field, therefore football administration cannot be taken care of by the court and the court will eventually say that," emphasised King.
Asked if he is prepared to take on the responsibility of taking football forward, he said he would only run for the presidency if the support is "widespread". He said his style is not to impose himself on an organisation. Unless a team is willing to go in one direction he will not be a part of an organisation, King maintained.
On the other hand, King highlighted that social and economic benefits can be derived from football, which also has entertainment value. Therefore there needs to be a plan that outlines how the structure will be strengthened administratively; how funds will be raised on a sustained level to take care of all the growing needs" as well as developing infrastructure, he said.
He pointed to the FIFA Goal Project, stating that it is at a stage many cannot be proud of. King also questioned what will be done to help officials and increase the membership base of the associations. With the absence of answers to these questions King believes that nothing will change.
"Similarly, I would want to see our coaches move to that very next level where they themselves can be well organized, take football from where it is now and create the right level and quality of nursery so that there can always be a feeder into clubs and this can expand clubs if the feeder system is strong enough," he said. "I am not so sure that enough of that is going on right now. What can we do to strengthen woman's football?" King questioned.
He stated that at the moment there is no quality structure for woman's football in the country and more attention needed to be paid to its development.
King said while much lip service is paid to women's football, he is not sure that administrators are clear as to "what they want to do, how they plan to do it, the resources they need to do it and where it is going to take us in the next four to five years."
Despite this apparent gloom though, King said there has been a fillip with some attention being paid to football in schools. He maintained that this needs to be explored more, adding that if it done properly a quality product can ensue.
Around the Web