DURBAN, (Reuters) – South African batsman Vaughn  van Jaarsveld has been banned from cricket for three months  following an appeal from the World Anti-Doping Agency (WADA),  the South African Cricketers' Association (SACA) said yesterday.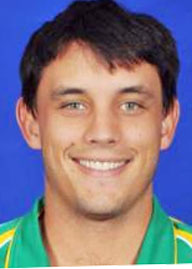 The 26-year-old Van Jaarsveld, who has played two one-day  internationals and three Twenty20 matches for South Africa  tested positive for the banned stimulant sibutramine in November  after taking weight loss medication prescribed by his doctor.
Sibutramine is a stimulant which, although present in  certain medications, is also on WADA's prohibited list. Initially, Van Jaarsveld received a reprimand from the South  African Institute for Drug Free Sport (SAIDS) after it found  that the medication had been taken for legitimate weight loss  reasons and not to enhance performance. But WADA appealed against the decision, resulting in SAIDS  handing down the three-month ban.
"This is a particularly harsh outcome for Vaughn, given the  circumstances of this matter," SACA's chief executive Tony Irish  said in a statement.
Around the Web