By Iva Wharton
Playing for Guyana is an honour but knowing that you are wanted is the greatest feeling, said 26- year-old Ricky Shakes.
England-based Shakes said this is not his first international exposure  nor is it his first with the Golden Jaguars.  But he said it's his first with the Golden Jaguars at this level.
Shakes said he met a few of the players while they were on a trip to England. A professional footballer, Shakes was drafted to play a friendly match against Cray Wanderers Football Club. As such, some of faces on the team are familiar while others are new, but he said he likes working with them.
In 2006 Shakes said he made his international debut playing for the twin-island republic of Trinidad and Tobago. He was eligible since his mother was born in Trinidad.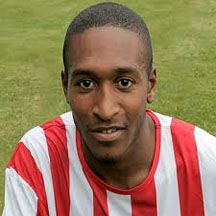 However, there is no problem with him playing for Guyana. That, he said, was five years ago. After the stint he was never called up again to represent the republic. In fact, he had given up hopes of playing for Trinidad. He also said that episode is behind him.
The Ebbsfleet United right side midfielder and striker said he was elated when he was informed that he was among the overseas players selected to contest the 2014 World Cup qualifiers in Barbados.
He is the father of a four-year-old girl, Shakes said, and this is his first visit to the country of his father's birth. He also said that he plans on returning, hopefully in November when they are scheduled to play in Trinidad.
Shakes said playing with his new teammates is a great experience as what some may see as a disadvantage can be used by them to their advantage.
"It's a good thing when you have players from all over the country, everybody has a different style of playing. You obviously have to teach and guide the other players how we play and we have to learn how they play and it comes as a good combination together to actually jell as a team."
That process, he said, is not only suitable on the field, but off the field also as team bonding is necessary.
"I think we would do very well, this is a very good team. We trained together as the official team, for the qualifiers. I think we have a good chance, they have done well before I got here and I could see why they have done well."
Smiling, Shakes said his four-year-old has just started school and he is working an eight-to-four job along with his football.
According to him he is out of the professional league after this team, Ebbsfleet was relegated. "If we do well and get promoted we would be up in the league again into league three."
Shakes said he has two siblings – an older brother and a younger sister. His brother, he said, dropped the sport while he continued.
Apart from Ebbsfleet, Shakes had played for five other teams – Bolton Wanders, Bristol Rovers, Bury, Swindon Town and Brentford.
Around the Web