By Iva Wharton
Tomorrow marks the start of three exciting days for six young footballers.
They will be participating in the Digicel Kick Start Football Clinic being held in Suriname under the watchful eyes of John Barnes.
Barnes, a former English and Liverpool footballer, would be assisting the players in their football development.
The players are Jason Cromwell, Mark Wronge, Jermaine Fletcher, McCurd Crammer, Romario Welcome and Troy Lewis.
Digicel's Public Relations Officer, Shonette Moore, said the Guyanese players will be working alongside their Surinamese counterparts.
After three days of training in Suriname, several of the players will head to Trinidad for further training, this time with Barnes along with a team of Barkley Premier Coaches from Sunderland Academy.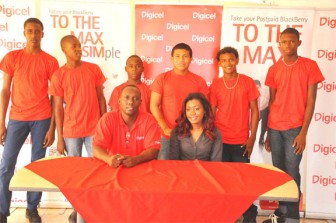 "So depending on how the players participate in the clinic once they see great talent they will be selecting the best players to participate in that one- week training," Moore said.
The one-week training in Trinidad starts on November 1.
The number of players heading to Trinidad, Moore said, will depend on their performance.
The selection of the players was done by the Guyana Football Federation.
Three of the players, Moore said, competed in the Digicel-sponsored schools football tournament.
Crammer said that he is excited about the trip. "I am expecting to do well and to be somebody better."
Crammer, a student of Waramandong Secondary, said he came out with the support of the people of Waramandong as he is the first to embark on such a programme.
Another player, Fletcher, of St. Mary's Secondary, said he is thankful for the opportunity and he is prepared to go and do his best.
Cromwell, of Annandale Secondary, said this is the first time he will be representing Guyana on the international stage and for that he is happy.
According to him, it is his hope that the programme will give him the opportunity to improve his football.
Cromwell also said that he was confident of being among the players going to Trinidad for the second leg of the clinic.
The other players are from Berbice High, Wismar/Christianburg Secondary and IBE.
Andrew Murray was the first player from Guyana to get to the second stage. He was selected to travel to England to compete in the second stage.
Around the Web