FATULLAH, Bangladesh, CMC – West Indies opened their tour of Bangladesh with a convincing 81-run defeat of a Bangladesh Cricket Board XI here yesterday as they warmed up for the limited overs series starting next week.
Sent in at the Narayanganj Osmani Stadium, the tourists struggled to a disappointing 217 for nine from their 45 overs, with stylish left-hander Darren Bravo top scoring with 47.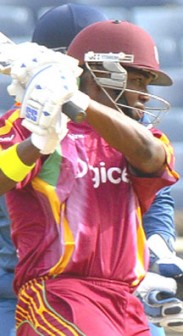 Seamer Ravi Rampaul then snatched four for 23 to send the BCB XI crashing for a paltry 152 off 41 overs.
Head coach Ottis Gibson would not have been impressed with his side's sluggish start, as they slipped to 45 for two in the 16th over.
Lendl Simmons laboured 20 balls over four before falling in the seventh over while his 21-year-old rookie partner Kieran Powell managed 18 off 41 balls before also departing.
Bravo and Marlon Samuels then came together to patch up the innings with a 59-run, third wicket stand that consumed 71 balls.
While Bravo faced 74 balls and struck five fours and a six, Samuels got 30 off 47 balls with two fours.
Both fell within the space of 30 balls with 15 runs added, and when Danza Hyatt fell for 14, the Windies were tottering on 128 for five in the 34th over.
However, captain Darren Sammy and the recalled Denesh Ramdin combined in a 57-run sixth wicket stand to stabilise the innings.
Sammy struck 27 from 24 balls with three fours while Ramdin stroked a cameo 30 from 23 balls with two fours and a six.
The right-handed Sammy fell in the 41st over at 185, sending the innings into decline as Ramdin followed in the next over, and debutant Carlos Brathwaite (2) and exciting all-rounder Andre Russell (8) failed to produce any late cameos.
In reply, the BCB XI lost out-of-favour Junaid Siddique to the eighth ball of the innings without scoring, trapped leg before wicket to Sammy's medium pace at two for one.
The experienced Mohammad Ashraful countered with six fours in 32 off 44 balls, anchoring a 43-run second wicket stand with captain Shahriar Nafees (16).
Three wickets tumbled for 34 runs to leave the hosts on 79 for four before top scorer Alok Kapali (41) dominated a 37-run, fifth wicket stand with Naeem Islam (12).
Once both batsmen fell in successive overs from Rampaul, the innings tailed away, with off-spinner Marlon Samuels (2-27) chipping in with valuable wickets.
West Indies face Bangladesh in the lone Twenty20 International next Tuesday in Dhaka.
Scoreboard
WEST INDIES (Max: 45 overs)
L Simmons c Nasir Hossain b Robiul Islam                                           4
K Powell c Sohag Gazi b Naeem Islam                                                     18
D Bravo c Shuvagoto Hom b Alok Kapali                                                47
M Samuels c sub (Mominul Haque) b Nasir Hossain                          30
D Hyatt lbw b Alok Kapali                                                                               14
*D Sammy st Naeem Islam b Sohag Gazi                                                   27
+D Ramdin c Shuvagoto Hom b Mohammad Ashraful                        30
C Brathwaite st Naeem Islam b Mohammad Ashraful                            2
A Russell c Shuvagoto Hom b Mohammad Ashraful                               8
R Rampaul not out                                                                                               15
A Martin not out                                                                                                    1
Extras (b2, lb4, w14, nb1)                                                                                 21
TOTAL (9 wkts; 45 overs)                                                                            217
Fall of wickets: 1-15 (Simmons, 6.1 overs), 2-45 (Powell, 15.5), 3-104 (Bravo, 27.4), 4-119 (Samuels, 32.4), 5-128 (Hyatt, 33.5), 6-185 (Sammy, 40.2), 7-191 (Ramdin, 41.4), 8-191 (Brathwaite, 41.5), 9-200 (Russell, 43.3)
Bowling: Robiul Islam 7-1-42-1, Alauddin Babu 4-0-16-0, Naeem Islam 5-1-24-1, Nasir Hossain 9-1-28-1, Sohag Gazi 9-0-60-1, Alok Kapali 9-0-32-2, Mohammad Ashraful 2-0-9-3
BCB XI
*Shahriar Nafees c Rampaul b Martin                                          16
Junaid Siddique lbw b Sammy                                                           0
Mohammad Ashraful c wkp Ramdin b Russell                              32
Alok Kapali c & b Rampaul                                                                    41
Shuvagoto Hom c Powell b Brathwaite                                             10
Naeem Islam c Sammy b Rampaul                                                        12
Nasir Hossain c wkp Ramdin b Rampaul                                            20
Alauddin Babu c Martin b Samuels                                                      4
+Saghir Hossain c wkp Ramdin b Samuels                                      0
Sohag Gazi not out                                                                                   7
Robiul Islam b Rampaul                                                                         3
Extras (lb6, w1)                                                                                          7
TOTAL (all out; 41 overs)                                                                 152
Fall of wickets: 1-2 (Junaid Siddique, 1.2 overs), 2-45 (Mohammad Ashraful, 13), 3-52 (Shahriar Nafees, 15.3), 4-79 (Shuvagoto Hom, 22.4), 5-116 (Alok Kapali, 30.3), 6-119 (Naeem Islam, 32.1), 7-126 (Alauddin Babu, 35.3), 8-126 (Saghir Hossain, 35.4), 9-148 (Nasir Hossain, 40.1), 10-152 (Robiul Islam, 41)
Bowling: Rampaul 9-3-23-4, Sammy 4-0-31-1, Martin 8-1-25-1, Russell 7-0-18-1, Samuels 8-0-27-2, Brathwaite 5-0-22-1.
Result: West Indies won by 65 runs.
Toss: BCB XI.
*Naeem Islam took over as wicketkeeper.
Umpires: Enamul Haque, Sharfuddoula.
Around the Web