Members of Guyana's premier Capoeira group, Grupo De Capoeira Camangula (Guyana), Third Street, Alberttown, returned from Brazil after participating in the fourth annual International Jungle Meeting in Manaus, Brazil marking Guyana's place in the world of Capoeira.
The local group benefited from extensive training and Guyana's participation was greatly appreciated, according to a release.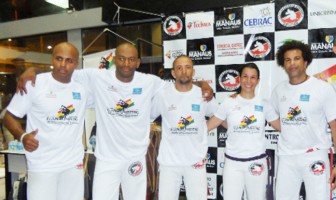 The statement also noted that the group would like to thank their "main sponsors Pure Diamonds and Correia & Correia Limited for helping to make this venture possible."
Accordingly, the group "hopes to attract new sponsors as it aims to host an international Capoeira and MMA workshops next month." Capoeira is a Brazilian art form combining dance, martial arts and music and is one of the fastest growing sports worldwide.
The local five-man team of Aziza De Mendonca, Greame Gustave, Leslie Singh, Jeffrey Walcott and Vandyke David attended the international meeting and cultural exchange from September 21-25. The visit was facilitated through the invitation extended by Vander Edson de Araujo, head of Grupo De Capoeira Camangula in Manaus.
Participants came from various states in Brazil as well as  Germany, Japan and Colombia.
The release stated that Grupo De Capoeira Camangula (Guyana) is a registered non-profit sports organization that has also been officially inducted by the parent organization in Manaus. It successfully hosted its first graduation in February.
The group which has been practicing for nearly six years, maintains regular classes, and has put on numerous shows while maintaining a  positive outlet for many young men and women.
The group is also looking to increase its membership and is asking that persons contact Greame Gustave on 638-5876 or check their Facebook page, Camangula Guyana.
Around the Web