By Emmerson Campbell
Robin Persaud brought the curtain down for the fifth annual Rid on Life five-stage road race yesterday with the victory that had previously eluded him throughout the four-day event.
The national cycling captain in a spirited display of riding, sprinted away from second place finisher and overall tour winner Michael Larsen to earn the victory in the 62-mile event.
Persaud's winning time was two hours 45 minutes and 51 seconds.
Many pundits had predicted that Jonathan Teeter, the American from the California-based Paso Prime Beef Company-sponsored team would lift the winner's trophy as he was enjoying a 16-second lead over his nearest rival, Barbadian 18-year-old Jamal Eastman.
Larsen, who is also part of the Paso Prime Beef Company team and Persaud had other ideas and envisioned themselves as the fifth Tour of Guyana champion.
The pair put on an epic display of road racing, literally pushing each other to the line.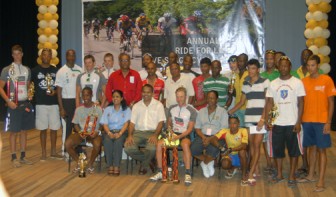 Unfortunately for Persaud, his exploits were not enough for him to be crowned Tour of Guyana champion.
Larsen, who did not win a single stage, literally saved his best performance for last, a performance that would crown him Guyana's newest Ride for Life King.
Persaud came into the fifth stage in seventh position and needed an amazing race to finish in the top position as he was five-and-a-half minutes behind  tour leader Teeter.
In a determined effort, he went full blast from start to finish, winning the stage ahead of Teeter and Eastman by more than five minutes.
However his performance was not good enough to propel him to the podium as he finished fourth overall.
Larsen had entered yesterday's race in sixth position, some four minutes and seven seconds behind Teeter but his second place timing was good enough to earn him the overall victory.
The race which started at 8:30 am at Kara Kara, Linden and ended on Homestretch Avenue, began at a fair pace with the cyclists all riding together until there was a breakaway at Amelia's Ward.
Michael Anthony, Rastaff Oselmo, Mark Lewis and Cazala Christophe of French Guyana were the riders that were part of the break away.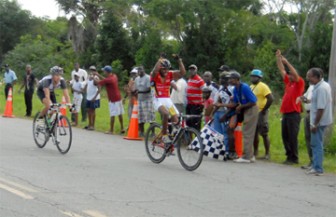 The four riders were pursued by a pack that was headed by Walter Grant-Stewart, the Americans, Marlon 'Fishy 'Williams, Persaud, Godfrey Pollydore, Leer Nunes and Junior Niles.
However, Anthony Olselmo and Christophe had increased their lead by a minute by the Bamia bus shed. Lewis and Larsen separated themselves from the pack and played cat-and-mouse for a while until Persaud, Nicholas Sorrensen and Henner Rodel along with Enzo Matthews caught up with them and journeyed for about two miles.
Another chasing pack that included Williams, Eastman and Paul DeNobrega joined the bunch. Matthews, along with Persaud, DeNobrega and  Larsen separated themselves and the three leaders started to increase their pace at Silver Hill but were caught about two miles later. The bunch rode together as a team and by Soweyo they had opened up a one minute lead. Larsen and Persaud broke away from the bunch about  two miles before the Kuru Kuru Primary School. The duo was caught again by the pack and the group rode together until they reached Supply. The pace was increased by the trio of Larsen Persaud and O'Selmo who  rode together until the final turn into Homestretch Avenue. Persaud and Larsen then separated themselves from O' Selmo and had their own race from around 200 metres from the finishline.
The duo were saddle to saddle for the last 10 metres but Persaud changed another gear and stormed to victory claiming the fifth stage.
The top 10 finishers overall for the five stages were Larsen 10.20.39, Teeter, 10.20.45, Eastman, 10.21.01, Persaud, 10.21.50, Pollydore, 10.22.18, Adam Carr, 10.22.28, Nunes, 10.24.07, Moses Ricketts of Suriname,  10.26.07 and Henner Rodel 10.26.40.
Four Guyanese, the five riders from California and a Surinamese made up the top 10.
The four-day event required the riders to cover 266 miles across the three counties of Guyana. The tour attracted 60 riders with 15 of them from foreign countries including the USA, Germany, Barbados, Trinidad, England,Suriname Denmark and French Guiana.
The first stage that commenced on  October 6 at Corriverton and ended at New Amsterdam (46 miles) was won by Godfrey Pollydore in a record time of one hour, 36 minutes and five seconds.
The second stage on the same day Rosignol to Georgetown (60 miles) was also won in a record time (two hours, 18 minutes and 45 seconds) by Teeter
The third stage that was the shortest Wales to Parika (35 miles) was won by Lewis in a time of 58 minutes and 58 seconds.
The penultimate stage Supenaam to Suddie (62 miles) was won in a record time (two hours, 35 minutes and one second) by Marlon Williams.
At the closing ceremony the at the National Cultural Centre, the top 10 finishers along with the top three juniors and seniors received their trophies and other prizes.
Jamal Eastman, Paul DeNobrega and Michael Anthony were the juniors while Raymond Newton, Junior Niles and Kennard Lovell were the top seniors in that respective order.
The ride for life tour of Guyana five stage cycle race is a collaborative effort of the Ministries of Health and Sport  and the Guyana Cycling Federation (GCF).
Around the Web