Team Slash began to their campaign to win the inaugural 3-on-3 Mackeson Smooth Moves tournament in emphatic fashion when the tournament was played  Saturday evening at the Burnham Court.
Slash, boasting players such as Jason Squires, Aubrey Austin and Horace Hodges, stunned most of their opponents winning four of their games and gaining a walkover against Riders.
Bounty Colts 'A' with a line up which included Gavin Beram, Kelvin Simon, Dane Kendall and Jermaine Lovell played physical games to become the second team to advance with four points, loosing only to Slash  7-11.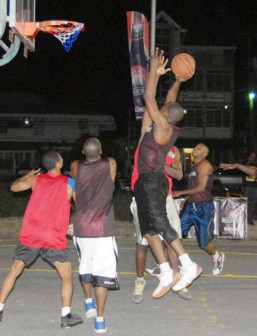 Knights was the third and final team to qualify from the first Georgetown group as they managed to end with three points after winning three games and losing two.
With players such as Kester Gomes, Jason Cort and Randy Aaron, the Knights were able to play an all round game of good defense and offense to down their opponents while losing to the top two qualifiers  Slash and Bounty Colts 'A' with score lines of 7-10 and 12-13 respectively.
Pacesetters 'B', who were favourites to qualify from the group with the likes of Clement Brusche, Hugh Arthur, Shawn Gillis and Mark Richards, seemed out of sync as they only managed a mere one point, losing four out of their five matches.
Their only victory came against a Rider team that played with no valour and zeal for the game, winning comfortably with a 13-8 score line.
The next group games will be played on Wednesday at the Albouystown and Mackenzie Sport Club Courts.
Around the Web