Looking out for the interests of sportsmen and women today in Guyana is a dangerous and thankless job but somebody's got to do it.
Al Thomas, Suhai Feng, Rashad Hussain, Gregory Cort and Pretipaul Jaigobin might be as different as any five Guyanese put together in any geographical location but they all have one thing in common, which is, a burning desire to see that sports administrators fulfill the mandate of their constitutions.
This might be easier said than done in a country where it seems that the majority of sports organizations are run by persons who have banded themselves into cliques (and here the word is not used in a pejorative sense) in an effort to enforce their will on their often unwilling constituents.
Hussain and Feng are two of the nation's top junior chess players who are fighting the battle to have the Guyana Chess Federation (GCF) select future national teams on merit.

Their efforts can be said to have reaped rewards for, along with support from a number of other top junior chess players namely, Anthony Drayton, national Junior Champion, Ron Motilall and Sham and Kana Khan they have managed to get the GCF to select a new team for the upcoming IGG, a small victory and a step forward in the right direction.
There has been a price to pay for Feng has been singled out by the GCF and initially told that he was being expelled from the executive committee for failing to attend three consecutive meetings.
The GCF subsequently did an abrupt volte face and, in a press release on Friday, stated that Feng was still on the committee.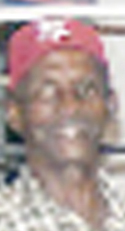 Why the sudden about turn by the GCF? Simply because they knew that any challenge to Feng's expulsion could have been won by the fact that there are other members on the committee who have missed three consecutive meetings but Feng was the only one told that he would be expelled to date.
Feng and Hussain are a new breed of youngsters whose courage to stand up and force sports administrators to be accountable must be commended.
So too must be Thomas and Cort.
These two boxing coaches from the Ancient County of Berbice raised the ire of the Guyana Amateur Boxing Association (GABA) for daring to highlight the plight of young boxers in their care.
The two coaches were sanctioned by the GABA for bringing the sport of amateur boxing into disrepute and placed on a one-year bond.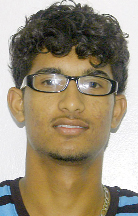 The actual "crime" the two coaches committed was that they brought to the attention of the media (and thereby the parents of the young children) that the GABA was tardy in arranging for meals to be provided in a timely manner for the boxers who had just travelled from Berbice and some of whom were expected to fight that same night at the opening session of GABA's Intermediate Championships.
A GABA official told this newspaper that the two coaches were even not afforded the opportunity of a hearing a claim which Thomas endorsed while also stating that they have not been written to by GABA.
Guilty without a hearing and "bringing the sport of boxing into disrepute."
Forgive the pun, but isn't the GABA making a meal of this.
Certainly if only by his exploits, if not his age, the 67-year-old Thomas deserves to be better treated.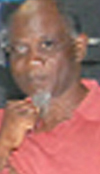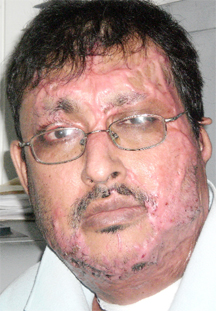 A former national heavy weight champion, Thomas was once the number three rated light heavyweight boxer in the Commonwealth and he even sparred with the legendary Muhammad Ali  at the Albion Community Development Centre ground, when the former World heavyweight champion visited Guyana in 1978. One should remind GABA that boxing is a very serious sport.
It is a contact sport unlike other sports and serious injury can occur to those who participate in the sport even those who are well fed and properly attired.
Boxers have been known to have died in the ring while others like Ali himself, are living testimony of the damages to not only the human body, but the psyche of the individual, that result from absorbing powerful punches.
In fact, the American Association of Neurological Surgeons say that 90 per cent of boxers sustain a brain injury. Boxing may account for fewer deaths than some other sports but the numbers of boxers suffering brain damage are believed to be much higher than recorded.
It is all the more reason why the health of boxers participating in the sport should be properly assessed and to this end, messers Thomas  and Cort, should be praised for their diligence might have resulted in properly fed boxers entering the ring that night thereby reducing the possibility of serious injury to the young Simon Pures.
Despite what GABA says, Thomas and Cort must continue to believe that it is never a wrong thing to stand up for the young children of this or any other nation.
In any other country a committee would have been set up to look more deeply into the state of amateur boxing in this country particularly as it relates to the health of the boxers and to make recommendations for improvement.
And last but by no means least, Jaigobin.
This cricket administrator has to; every time he looks in the mirror, see the physical proof that is the reward for taking on the powerful cliques that run sports associations and organizations in Guyana today. He must also live with the knowledge that those responsible for that dastardly act might never be caught and that in some way, the bad guys have won.
But Jaigobin and others like him, who long for a day when transparency and accountability will return to sports administration in Guyana, must never give up despite the consequences, the sanctions, the expulsions, the physical injuries and the injustices.
Men like Jaigobin, Feng, Cort, Hussain and Thomas are in the minority. Life in Guyana today, 45 years after this country attained Independence, is epitomised by the fact that no one seems willing to stand up for the freedoms our forefathers fought for.
Everywhere you look around you, there is evidence of a people cowed, afraid to speak up or out on issues and willing to compromise their values in exchange sometimes for wealth.
We need to be careful lest we become a nation of sycophants, filled with self serving persons, who unashamedly flatter and fawn over those in authority in exchange for perks, privileges, benefits, etcetera, and etcetera.
If there is one scenario that encapsulates the state of sports in Guyana it is the existing situation within the Guyana Football Federation (GFF).
The GFF is now rudderless following the ban imposed on long-standing president Colin Klass.Klass was found guilty by the Ethics Committee of the World governing body for football (FIFA) of being knowingly involved in the cash-for-votes scandal by FIFA vice presidents Jack Warner and Mohammed bin Hammam and banned from all football-related activities for 26 months. He was also fined five thousand Swiss francs.
Klass presided over the GFF for over two decades  and, aided by what is seen to be a weak General Council, he was able to stymie the development of football in Guyana and improve his standing with FIFA while ALL stood on the sidelines watching helplessly as goals and more goals were scored against Guyana's football until FIFA, mercifully, called time to that particular charade.
That Klass was able to operate with such impunity is a direct result of the fact that that there is little or no recourse for persons wronged by associations/federations, just ask Jaigobin, Feng, Thomas and company.
This is the single biggest impediment to sustained development within sports bodies and perhaps, there is need for an Appeals Committee, made up of influential lawyers within the sports community such as K. Juman-Yassin, Roysdale Forde, Anil Nandlall and Dr. Karen Pilgrim to name a few, to be set up.
The answer to the above lies in bureaucratic intervention and one hopes that the implementation of the National Sports Policy will see legislation enacted which will help those who are not afraid to fight for fairness, justice, equality and fair play in all the sports disciplines in Guyana, get their just rewards.
Around the Web