Reigning Guyana Open ladies golf champion Christine Sukhram is blazing a trail of glory ahead of the local premier event which is expected to get underway in two weeks time but she  has expressed  concerned over the lack of female players locally.
Sukhram has shown impressive form in recent competitions in Trinidad and Tobago and Suriname and is now focused on claiming her sixth consecutive title when the R1 Vodka sponsored Guyana Open takes place on October 22-23 at the Lusignan Golf Club aback Lusignan Village on the East Coast of Demerara.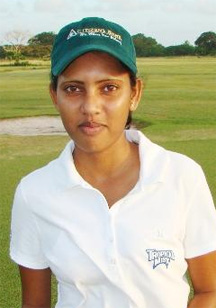 She first won the Guyana Open in 2006 at 17-years-old and has dominated the female section of the  competition ever since.
Her most recent success came at the RBTT/RBC Suriname Open played at the Paramaribo Golf Club two weekends ago where she won the overall best gross of 166 among the female players as well as the best gross of 78 and the best net of 67 on day two.
Sukhram said that she competes in two regional tournaments annual with sponsorship from local beverage giant Banks DIH and these tournaments are a fillip to her development. At the Augustine Insurance Bank Open in the Twin Island republic last month Sukhram recorded the best net of 71 on the first day and had an overall net of 145 in the tournament that attracted over 35 ladies golfers. In an exclusive interview with Stabroek Sport Sukhram said that she is pleased with her form ahead of the Guyana Open.
She however bemoans the lack of female players on the local scene stating that the problem needs to be addressed urgently.
"I would like to see more youths coming out to play golf especially females. Only two female players are competing at this time now that Rita (Heikens) has left Guyana after competing for the past three years," Sukhram said.
Suhkram who started to play golf at the tender age of seven years said that there have been a few junior programmes but the young participants fail to continue playing so there is no continuity of junior players.  "We need more female players so that we can have our own competitions. I am prepared to assist in coaching female players once they show an interest," he disclosed.Sukhram is the daughter of the late Basil Sukhram who was the local professional and coach at the Lusignan Golf Club.
She became interested in golf at the age of seven years when her family returned from Grenada where her father worked for two years as a golf coach.
Suhkram sees Joaan Deo, the other local player and the contingent of female players from Suriname as the main competition for the Guyana Open.
Around the Web