Guyana's top girls' junior swimmer Brittany van Lange is confident and excited as she gears up for her newest challenge – contesting the Pan American Games in Mexico then heading straight to Suriname for the Inter-Guiana Games.
The Goodwill Games gold medallist seems undaunted by her tough schedule. Despite the fact that the games overlap, and she will be contesting three events in the first meet before heading to Suriname, van Lange told Stabroek Sport that she plans to use her performance to gauge how much she has improved since her last international event, a process she goes through with each successive meet.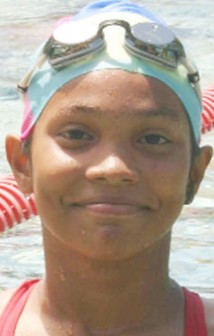 "With every competition you get better, every time you go to another competition you get to test yourself to see if you've gotten better. After the competitions you can go and improve yourself and then when you go back you can see how much better you've gotten," she told Stabroek Sport. The 15-year-old Bishops' High School student will be participating in the 100m, 200m and 400m freestyle events of the Pan Am Games set for Guadalajara, Mexico from Friday to October 30. The swimming segment of the Games officially ends on October 22.
Niall Roberts will also be representing Guyana at the Pan Am Games. He will be participating in the 50m, and 100m freestyle and the 100m butterfly events. Both he and van Lange last participated in an international event at World FINA Championships held in Shanghai, China in July last.
Both swimmers received wildcard entries to the Pan Am Games. Roberts said he spent much of his time earlier in the year trying for qualifying times and though he missed the mark, he is happy for the opportunity to compete at the prestigious quadrennial event. The swimmers also said they were reluctant to set their sights too high for these Games as they envisage the high altitude at the swimming location to be a challenge. This will be a first time scenario for van Lange, and though Roberts has previously performed at high altitudes, he concedes that that does not make it easier for him. "With the 50m freestyle, the less you breathe, the faster you go but being at the high altitude when you take that breathe you're already getting less oxygen to start out with," he explained.
Van Lange has set a standard in producing new personal best timings at each of her overseas performances. However; she says she doesn't know how the altitude will affect her. "I don't know what to expect but I'm going in confident and to do my best. I don't expect it to be exactly like before [at the FINA Championships] but I think that will help me," she said. The industrious van Lange will also be participating in the Tri-nation Inter-Guiana Games (IGG) set for Suriname from October 21. With the two competitions boasting overlapping dates, immediately after her performance, van Lange is expected to be flown from Mexico to Suriname. Asked how she feels about this, with a smile the IGG silver medallist said she was excited. "Actually I think I would really enjoy moving from one competition to the next, I don't think it's something that any of our swimmers have done before and I'm actually looking forward to doing it," she enthused.  The team will travel to Mexico alongside coach and team manager Stephanie Fraser. In addition to swimming, Guyana will also be represented in athletics, squash, rugby, and taekwondo events.
Around the Web