By Iva Wharton
Robert Cadogan, coach of the female Inter-Guiana Games (IGG) basketball team said the team he is currently working with will be the strongest ever to compete at the games.
"I know that we are going to do better, but not bragging the previous female teams that represented Guyana at the IGG were pretty weak or less," Cadogan told Stabroek Sport.
According to Cadogan, he has confidence in the girls.
The girls, some of whom are as young as 12-years-old are very dedicated to the sport.
"This bunch here is the future of female basketball in Guyana. They understand the whole concept behind them being out there to represent Guyana. Another two to three years these girls will be in the senior national team," Cadogan predicted.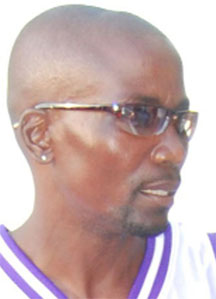 The team, he said, comprises five new recruits and five players with previous experience.
The experienced players, he said, are assisting him with the new comers.
Together, they are a good combination on the court, "the younger set of girls brings a whole different energy. They have complemented the senior girls more or less with the enthusiasm and energy they have brought. They are eager to learn and based on that, they are pushing themselves."
The team, he said, has been in training for over a month now and it has not been without challenges. The new players, he said, had to be taught the fundamentals of the game in order for them to become rounded basketball players.
"As a matter of fact, five of these girls came out of my After School Basketball Programme that was started in January and they have made it this far, because they have committed themselves since then. "They have been working pretty hard and this is the end result that they are a part of the Inter-Guiana Games team," the national coach added.
Cadogan said close to 12 girls are involved in the After School Programme being held at the National Gymnasium.
He said the programme was male dominated but added that he was working on attracting more female players. The students, he said have been drawn from several schools including; North and East Ruimveldt Secondary, St. Joseph's High and  Christ Church Secondary.  The team is expected to depart for Suriname on  October 19.
Around the Web